The Pop Tart Lights Up Fleet Week With a Stirring Performance in Brooklyn!
Katy Perry proved to be a tease who could back it up as she lit up Pier 9 in Brooklyn with a concert for triips who just stepped off ships arriving for Fleet Week. The concert, set up by the USO and sponsored by Pepsi, was classified as "secret" and dedicated to the members of the sea services, which include the US Navy, Marine Corps, Coast Guard, and allied troops in town to bring Fleet Week 2012 to New York City. According to several reports, security was extra tight at the pier, with everyone's name on a list. THE HEYMAN HUSTLE has even confirmed that even troops weren't allowed to bring guests.
Choosing one lucky U.S. Marine from the crowd, Katy said she wanted to re-create the iconic photo of a Sailor's kiss in Times Square at the end of WWII. The 20-year old Marine was more happy to take the place of a Sailor in the modern-day homage.
"If you drop me," Katy warned before the lip lock, "I'll sic all my friends on you!"
Then she reminded him, "on the lips!"
Of course, we're HustleTweeting about Katy's Marine Kiss, and you're more than welcome to join the conversation by following the Hustle on Twitter HERE or write to us directly at hustleoncrave@gmail.com Hey, have you checked out the Hustle's Ultra High Quality You Tube Channel, with exclusive videos featuring BROCK LESNAR'S "HERE COMES THE PAIN" … ICE-T AND COCO's SEX SECRETS … THE ULTIMATE WELTERWEIGHT BAD ASS NICK DIAZ … CONTROVERSIAL TEEN SENSATION TAYLOR MOMSEN … LEGENDARY MMA PIONEER FRANK SHAMROCK … THE WALKING RIOT MISSY HYATT … if you're not subscribing, you're missing something … and by the ways cheapos, it's FREE! Yes, absolutely 100 percent FREE! What are you waiting for? Check it out HERE!
By the way, we're also old school social networkers, so check out our interactive skills on Facebook HERE and even on MySpace HERE. If you're on Friendster, GFY … and have a pleasant tomorrow!
CLICK ON THE PICS BELOW FOR MORE OF OUR EXCLUSIVE COVERAGE OF
KATY PERRY'S CONCERT AT PIER 9 IN BROOKLYN FOR FLEET WEEK 2012!

CHECK OUT KATY PERRY KISSING A MARINE … AND LIKING IT!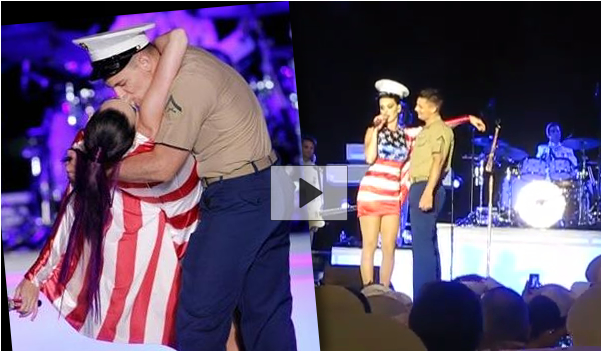 IT'S TIME FOR AN ALL NEW EDITION OF THE HOLLYWOOD CHARLIE
MEDIA WATCH, OUR DAILY TRAVEL ACROSS THE WORLD WIDE WEB.
OUR HIGHLY TRAINED MONKEYS HAVE PICKED OUT THE 15 WILDEST
STORIES FROM THE INTERNET FOR YOUR ASTUTE REVIEW. YOUR PART
IS VERY EASY. ALL YOU NEED TO DO IS PICK A PIC … AND CLICK!