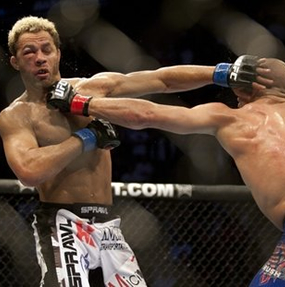 Welterweight Villain Scheduled For Surgery This Week in Boston!
Josh Koscheck confirmed reports he suffered a broken orbital bone against Welterweight Champion Georges St-Pierre in the main event of UFC 124 last night in Montreal.
"In Boston 2have my Broken orbital bone fixed. Then home 2 recover & spend some x with family. I want to say thx's 4 all the love last night!" KOSCHECK TWEETED, "Enjoy this picture. Boom, son!"
Koscheck posted the graphic photo you see in the headline of this story.
It has also been confirmed through several sources Koscheck and head coach "Crazy" Bob Cook of the AKA Training Facility (home of Undisputed UFC Heavyweight Champion CAIN VELASQUEZ) will drive from Montreal to Boston to have Koscheck's broken bone operated on this week.
Cook confirmed Koscheck, who is now 15-5, was released from a Quebec hospital Sunday afternoon, but cannot fly home to San Jose, California because an air pocket formed behind the broken orbital bone. That would make air travel extremely dangerous for Koscheck. Zuffa officials arranged for Koscheck and Cook to drive Sunday afternoon from Montreal to Boston, where the 33-year-old fighter is expected to undergo surgery Monday or Tuesday.
"We're going to have a much better sense of the injury when we get to the States," Cook said, "We'll get it checked down there. Hopefully he can have the surgery there and head home as soon as possible."
St. Pierre, who went on to win a unanimous decision after five rounds, shut Koscheck's right eye in the opening round in front of 23,152 screaming fans at the Bell Centre in Montreal. The broken orbital bone is a very serious injury. BROCK LESNAR broke Heath Herring's orbital bone at UFC 87: Seek and Destroy,and Herring has never returned to the Octagon since.
We're HustleTweeting on Josh Koscheck, and you're more than welcome to join the conversation! Follow THE HEYMAN HUSTLE on Twitter HERE or write to us at hustleoncrave@gmail.com
You can also subscribe (for FREE, cheapos, absolutely FREE) to our Ultra High Quality YouTube Channel HERE, and don't forget to check out our old school social networking skills by visiting us on Facebook HERE and even on MySpace HERE
CLICK ON THE PICS BELOW TO SEE THE ENTIRE GALLERY
OF GSP VS KOSCHECK II FROM UFC 124 IN MONTREAL!
EVERY SINGLE DAY, OUR CRACK STAFF OF OVERWORKED
UNDERPAID BUT HIGHLY TRAINED MONKEYS SCOUR THE
WORLD WIDE WEB IN SEARCH OF THE 15 HOTTEST STORIES
OF THE DAY, JUST TO BRIGHTEN YOUR DAY. COOL, RIGHT?
ALL YOU NEED TO DO IS PICK A PIC … AND CLICK!