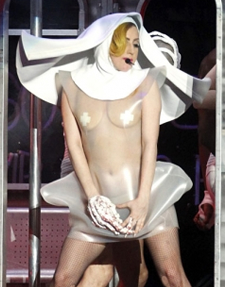 If You Thought She Was Controversial Before, The Modern Day Madonna Wants You To Know That You Ain't Seen Nothin' Yet!
Europe Twenty Eleven (Special to THE HEYMAN HUSTLE) — Lady Gaga is in full force, as the world awaits her next CD "Born This Way" to drop on May 23rd. And hey, what a coincidence, the 1st single off the release hits on February 13th, the very same day of the Grammy Awards. Oh, you Madonna-studying bad girl, how we love your marketing prowess, let us count the ways!
CLICK HERE FOR EXCLUSIVE PHOTOS AND VIDEOS OF LADY GAGA WITH MADONNA!
CLICK HERE FOR EXCLUSIVE PHOTOS AND VIDEOS OF LADY GAGA'S NOW-LEGENDARY CONCERT AT RADIO CITY MUSIC HALL!
The shock mistress tweeted "Don't hide yourself in regret, just love yourself and you're set. I'm on the right track baby, I was Born This Way" and just to make sure everyone was paying to her TWITTER page, she posted a bottomless photo of herself to celebrate the New Year 2011!
CLICK HERE TO SEE LADY GAGA'S SHOCKING BOTTOMLESS PIC THAT HAS THE ENTIRE WORLD TALKING!
Of course, the 7,582,503 current followers of the verified Gaga Twitter account aren't complaining. And neither are we! As a matter of fact, we're HustleTweeting about Lady Gaga, and you're more than welcome to join the conversation! Follow The Hustle on Twitter HERE or write to us at hustleoncrave@gmail.com
While you're here, and before we turn you over to our pics from Europe, perhaps we could interest you in seeing EXCLUSIVE PHOTOS FROM LADY GAGA'S WILD CONCERT IN CHICAGO, and/or our exclusive coverage of LADY GAGA'S "SHARON STONE IN BASIC INSTINCT" CONCERT MOMENT IN NEW YORK!
You can also subscribe (for FREE, cheapos, absolutely FREE) to our Ultra High Quality YouTube Channel HERE, and don't forget to check out our old school social networking skills by visiting us on Facebook HERE and even on MySpace HERE
CLICK ON THE PICS BELOW TO SEE THE ENTIRE UNCENSORED
GALLERY OF LADY GAGA'S EUROPEAN SHOCKFEST!

IT'S TIME FOR AN ALL NEW EDITION OF THE HOLLYWOOD CHARLIE
MEDIA WATCH, OUR DAILY TRAVEL ACROSS THE WORLD WIDE WEB.
OUR HIGHLY TRAINED MONKEYS HAVE PICKED OUT THE 15 WILDEST
STORIES FROM THE INTERNET FOR YOUR ASTUTE REVIEW. YOUR PART
IS VERY EASY. ALL YOU NEED TO DO IS PICK A PIC … AND CLICK!