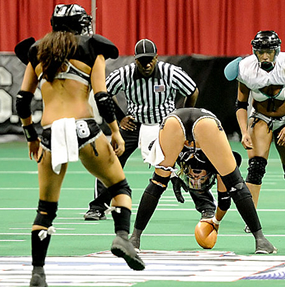 Anyone Can Cover The Super Bowl. Come On, It's So Over Done! But It Takes A Real Man To Concentrate On The Hard Hitting SmashBoob Action of The Lingerie Bowl!
…and since a real man wasn't available, I guess they sent me.

LOL.

The glamorous gals of the L.A. Temptation held on to their undefeated record and won the prized Lingerie Bowl trophy for the second consecutive year as they defeated the Philadelphia Passion 26-25. Tough break for the lovely ladies repping Philly. A bra-filling victory for the babes from L.A.

While The Black Eyed Peas, Slash, and Usher tried to recover from X-Tina's fumbling of The Star Spangled Banner, The Lingerie Bowl exploded with an exciting game that Lingerie Bowl League founder Mitchell Mortaza called "one of the most exciting games in our history!"

One of?

Try "the best game ever played in Lingerie."

Well, best football game, that is.

We're HustleTweeting about The Lingerie Bowl, and you're more than welcome to join us! Follow THE HEYMAN HUSTLE on on Twitter HERE or write to us at hustleoncrave@gmail.com
You can also subscribe (for FREE, cheapos, absolutely FREE) to our Ultra High Quality YouTube Channel HERE, and don't forget to check out our old school social networking skills by visiting us on Facebook HERE and even on MySpace HERE
CLICK ON THE PICS BELOW TO SEE THE ENTIRE GALLERY
FEATURING THE UBER-HOTTIES OF THE 2011 LINGERIE BOWL!

IT'S TIME FOR AN ALL NEW EDITION OF THE HOLLYWOOD CHARLIE
MEDIA WATCH, OUR DAILY TRAVEL ACROSS THE WORLD WIDE WEB.
OUR HIGHLY TRAINED MONKEYS HAVE PICKED OUT THE 15 WILDEST
STORIES FROM THE INTERNET FOR YOUR ASTUTE REVIEW. YOUR PART
IS VERY EASY. ALL YOU NEED TO DO IS PICK A PIC … AND CLICK!