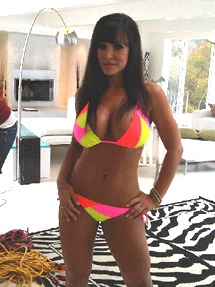 The Uber-Busty Award-Winning Goddess of Temptation Shows You MILFs Have More Fun!
There is perhaps no one in the adult world more enterprising than Lisa Ann. The super-ambitious brunette bombshell from Easton, Pennsylvania is the darling of Larry Flynt's exploding film business, having starred as the Hustler (great name, by the way) publisher's version of former Alaska Governor Sarah Palin in a rather risque (read that: Hardcore, another great name for us Extremists) parody of the hockey mom who should never use her teeth.
But we digress.

Lisa Ann is the foremost expert in the adult world in regards to social networking. Her TWITTER is the home of scoops, schedule updates, interaction with fans and critics alike, and a constant demonstration of someone who stays one step ahead of the competition.

When our own Hustler De Tuti Hustlers Paul Heyman was named one of the Top 100 Global Marketers by Ad Age Magazine, it was for the fact he had taken on the billion-dollar conglomerates with his creativity and his ability to stay ahead of the curve.

We dare suggest Lisa Ann is demonstrating the very same, and from an industry that tends to get pigeonholed much like Paul's past with the pro wrestling industry. "Wrestling carries the same stigma as porn," Paul said on The MMA Hour, the AOL talk show hosted by the #1 Mixed Martial Arts reporter in the game Ariel Helwani, "if JENNA JAMESON won an Oscar, her obit would still read Porn Star Jenna Jameson …"

We think Lisa Ann is a breakthrough star, and that says something in the same year Sasha Grey has turned HBO upside down with her groundbreaking performances on Entourage.

"Lisa Ann is the social networking Queen of the Adult World," Paul noted in a meeting earlier this week here at the Looking For Larry (parent home of THE HEYMAN HUSTLE) offices, "it's just one more thing she's so much better at than anyone else!'
We'll leave that part to your Hustlin' imaginations!
Freeones has videos and photos of Lisa Ann that would get us thrown off the web HERE
We're HustleTweeting about Lisa Ann, and you're more than welcome to join the conversation by following THE HEYMAN HUSTLE on Twitter HERE or write to us at hustleoncrave@gmail.com You can also subscribe (for FREE, cheapos, absolutely FREE) to our Ultra High Quality
YouTube Channel HERE, and don't forget to check out our old school social networking skills by visiting us on Facebook HERE and even on MySpace HERE
CLICK ON THE PICS BELOW TO SEE THE ENTIRE
SMOKIN' HOT GALLERY OF THE AWARD-WINNING LISA ANN!

THE HEYMAN HUSTLE'S VERY OWN TRAINED MONKEYS ARE PROUD
TO PRESENT THE TOP 15 STORIES OF THE DAY, ALL CONVENIENTLY
LINKED HERE FOR YOUR REVIEW. NO NEED TO SURF THE WEB, WE
DID ALL THE HARD WORK FOR YOU. JUST PICK A PIC AND CLICK!