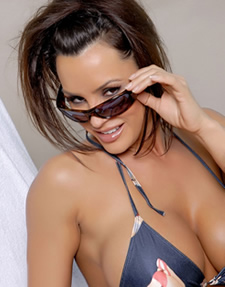 As The Genre Generates Bigger Stars and Grabs More Mainstream Attention, The #1 Attraction in the Industry Takes A Major Stand in the Name of Safety!
They don't come any bigger than Lisa Ann.

Easton, Pennsylvania's most famous wild child is the biggest name in the world of adult entertainment, scoring top honors on all the major awards shows this year. Her crossover parody of Sarah Palin made her a mainstream star, and now she's in the midst of the biggest scandal to rock the adult industry in quite some time.

A report was confirmed, and posted by several news sources, that an unidentified adult actor tested positive for HIV last week.

While rumors were running rampant throughout the industry, many waited for the confirmation before going public with their thoughts. None were more prominent, nor more public, than Lisa Ann.

The busty sensation, whose MILF/Cougar downloads are the rage of the adult digital world, has called for more condom use during adult movie productions. She told the Associated Press she will refuse pressure from production companies who demand unprotected sex on camera. In a bold move, the top star stated on the record that current testing is not enough.
After the actor tested positive, two major adult production companies, Wicked Pictures and Viivd Entertainment, shut down productions as a precaution. The Associated Press reported the actor was a patient at the Adult Industry Medical Healthcare Foundation, a clinic in Sherman Oaks that caters to actors in the adult entertainment industry.

Lisa Ann has started a major campaign to implement radical change in a business that notoriously frowns upon any change whatsoever. It's a dangerous battle for the 38 year old once-retired adult mega-star, but she feels the risk is not as great nor dangerous as an industry continuing to push its at-risk performers into a situation of being unprotected in the Age of HIV.

You can learn more about Lisa Ann's condom initiative by following her on Twitter HERE

We're HustleTweeting about Lisa Ann's Stand, and you're more than welcome to join the conversation! Follow THE HEYMAN HUSTLE on Twitter HERE or write to us at hustleoncrave@gmail.com

You can subscribe to our YouTube channel HERE, with all the latest videos and behind the scenes specials. For you old school social networkers, we're on Facebook HERE and yes, we have a MySpace page HERE
CLICK ON THE PICS BELOW TO SEE THE ENTIRE
GALLERY FEATURING LISA ANN!

THE HEYMAN HUSTLE'S VERY OWN TRAINED MONKEYS ARE PROUD
TO PRESENT THE TOP 15 STORIES OF THE DAY, ALL CONVENIENTLY
LINKED HERE FOR YOUR REVIEW. NO NEED TO SURF THE WEB, WE
DID ALL THE HARD WORK FOR YOU. JUST PICK A PIC AND CLICK!