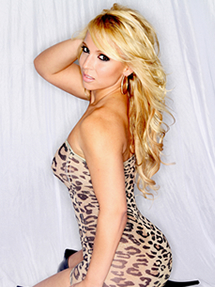 Trained By Homicide, The Hollywood Starlet Is Poised To Break In The Fall of 2010!
Lizzy Valentine takes her crafts seriously. That's not a misprint. The multi-talented wrestler/valet/actress/model first made a splash on the scene when she was Matt Sydal's love interest on MTV's WrestleSocietyX. Lizzy, who was the only woman on the show, caught everyone's attention. Sydal did too, as he went on to become "Evan Bourne" in WWE.

Lizzy moved on to Wrestlicious, where she was Candy Kisses. You know, Candy Kisses is her name, and lip synching was the name of her game.

But Lizzy wasn't just eye candy. She took her wrestling very seriously. Trained in New York City by former TNA and ROH standout Homicide, Lizzy made such an impression in WrestleSocietyX, Wrestlicious, and several West Coast independent promotions that in a recent poll of THE TOP FIFTY DIVAS IN PROFESSIONAL WRESTLING Lizzy finished in the astonishing place of sixth, KOing every Knockout on the TNA roster.

It came as a surprise to many, but shouldn't. Lizzy has mastered the art of social networking, with a strong presence on TWITTER, an interactive fan base on FACEBOOK, and a loyal following on YouTube

As one of her co-workers told us recently, "Not bad for a girl who stays in shape pole dancing all day long."

Pole dancing? "Yeah," we were told, "she likes what it does for her body. I guess it only proves that Milk isn't the only thing that does a body good!"
========================================

Lizzy Valentine photographed exclusively for THE HEYMAN HUSTLE by Ken Shames.
Hair/makeup provided by www.AudraBennett.com.

=========================================
CLICK ON THE PICS BELOW TO SEE THE ENTIRE
GALLERY FEATURING LIZZY VALENTINE!

THE HEYMAN HUSTLE'S VERY OWN TRAINED MONKEYS ARE PROUD
TO PRESENT THE TOP 15 STORIES OF THE DAY, ALL CONVENIENTLY
LINKED HERE FOR YOUR REVIEW. NO NEED TO SURF THE WEB, WE
DID ALL THE HARD WORK FOR YOU. JUST PICK A PIC AND CLICK!