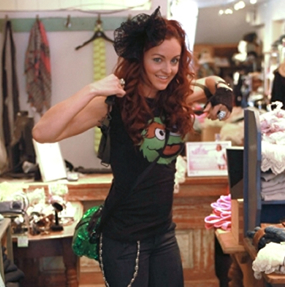 A DAY OFF FOR THE ULTRA-BUSY SINGER – SONGWRITER – MMA INTERVIEWER – MODEL? NOT A CHANCE!
Determined to escape the Bermuda Triangle-like syndrome of WWE Divas falling off the map once they are released from World Wrestling Entertainment (anyone hear a peep about Ashley Massaro? Rebecca DiPietro? Amy Zidian? Joy Giovanni? Amy Weber? Krystal Marshall?), Maria Kanellis is using her momentum from Donald Trump's Celebrity Apprentice to launch into the next phase of her career.

Presenting doing Mixed Martial Arts interviews on Mark Cuban's HDNet, Maria is also busy promoting her CD, and is lining up a slew of other projects as well. Hey, we just realized. She's worked for three billionaires this year. Vince McMahon, Donald Trump, and Mark Cuban.

Being as beautiful as Maria Kanellis obviously has its benefits!
CLICK ON THE PICS BELOW TO SEE THE ENTIRE GALLERY OF MARIA'S DAY OFF WITH THE PAPARAZZI!


IT'S THE HOLLYWOOD CHARLIE MEDIA WATCH, WITH THE
15 BEST STORIES FROM ALL AROUND THE WORLD.
WELL, ALL AROUND THE WORLD WIDE WEB.
BUT YOU ALREADY KNEW THAT, DIDN'T YOU?
PLEASE PICK A PIC AND CLICK!