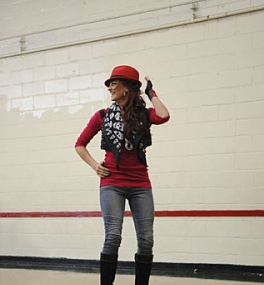 Maria Kanellis is doing everything in her power to escape the label "Former WWE Diva."
She's not ashamed of it, she's just trying not to be labeled. The multi-dimensional performer has a hot new CD coming out this week, and is already launching her MMA broadcasting career with HDNet. She is, of course, a former Playboy Cover Girl (not that we'd notice, except for the 200 issues stockpiled in the office of our boss, Hustler De Tuti Hustler Paul Heyman), and oh yeah, she just happens to be one of the favorites this year on Donald Trumps' hit NBC reality show "The Celebrity Apprentice."
So far this season, we've seen Carol Leifer, comedian Sinbad, baeball junkie Daryl Strawberry, Rod Blagojevich, and Selita Ebanks hear the words "You're Fired." Michael Johnson quit this week as well. So now the field is really getting narrow. Maria is left with Sharon Osbourne, Holly Robinson Peete, Cyndi Lauper, Curtis Stone, Bret Michaels, and Bill Goldberg. Whether or not Maria makes it to the final episode, her appearances on the show have increased her visibility, despite her release from World Wrestling Entertainment.
Photos of Maria's appearance on episode 5 of this season's Celebrity Apprentice available HERE.
You can follow Maria on Twitter at http://twitter.com/marialkanellis.
---
SEX SELLS. IT HAS COME TO OUR SEX SELLS ATTENTION THAT SEX SELLS
SOME PEOPLE THINK OUR MEDIA WATCHES ARE SUBLIMINAL MESSAGES
SEX SELLS DESIGNED TO LURE YOU INTO OUR WORLD OF SEX SELLS DEPRAVITY AND SIN.
NOTHING COULD BE FURTHER SEX SELLS FROM THE TRUTH.
JUST LOOK OVER OUR CHOICES SEX SELLS, THEN MAKE UP YOUR
OWN MIND SEX SELLS BEFORE YOU PICK A SEX SELLS PIC AND CLICK!