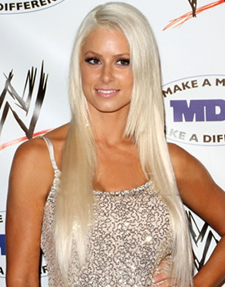 Exclusive Coverage From The WWE SummerSlam Kickoff Party in Hollywood!
The most entertaining act on WWE television in 2010, The Miz brought his awesomeness to the red carpet at the WWE SummerSlam Kickoff Party last night, as the current United States Heavyweight Champion on Monday Night Raw attended the festivities at the Tropicana Club in Hollywood's Roosevelt Hotel. The biggest pay per view of the season for World Wrestling Entertainment takes place later tonight from the Staples Center in Los Angeles.

Unfortunately, The Miz was not appreciated too much by the Girl Who Always Gets Away, WWE Diva and French Canadian Playboy Playmate Maryse Oulett.

CLICK HERE TO SEE OUR MAGNIFIQUE STORY AND BARDOT-LIKE PHOTOS OF MARYSE!

Don't forget our own Hustlers De Tuti Hustlers Paul Heyman will be the in-studio guest LIVE this Monday on AOL as Paul joins acclaimed Mixed Martial Arts reporter Ariel Helwani on The MMA Hour

CLICK HERE FOR MORE ON THIS MONDAY'S MMA HOUR ON AOL LIVE FROM NEW YORK CITY WITH ARIEL HELWANI AND PAUL HEYMAN!

The show begins at 1pm eastern/Noon central (and then go down the list … 10am for those of you just getting in from the Playboy Mansion).

And don't forget to join the conversation about the MMA Hour, Paul Heyman's appearance, HHH at the WWE party, SummerSlam, or whatever else is on your mind by following the Hustle on Twitter. Let the world know what you're thinking! Share your thoughts and check out the action HERE
CLICK ON THE PICS BELOW TO SEE THE ENTIRE GALLERY OF MARYSE
AND THE MIZ AT THE 2010 WWE SUMMERSLAM KICKOFF PARTY!

THE HEYMAN HUSTLE'S VERY OWN TRAINED MONKEYS ARE PROUD
TO PRESENT THE TOP 15 STORIES OF THE DAY, ALL CONVENIENTLY
LINKED HERE FOR YOUR REVIEW. NO NEED TO SURF THE WEB, WE
DID ALL THE HARD WORK FOR YOU. JUST PICK A PIC AND CLICK!