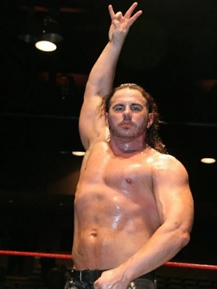 HUSTLE EXCLUSIVE!

MVP made his first appearance in the Northeast since requesting his release from World Wrestling Entertainment, as the former WWE United States Heavyweight Champion wrestled Matt Hardy in the main event of NorthEast Wrestling's 15 Anniversary show at the Mid-Hudson Civic Center in Poughkeepsie, New York.

CLICK HERE TO FOLLOW MVP ON TWITTER (BE WARNED … NO CHUMPS ALLOWED)!

CLICK HERE TO FOLLOW MATT HARDY ON TWITTER!

Hustle photographer Bob Mulrenin was ringside for the event, and shot these exclusive photographs of the MVP vs Matt Hardy main event. "Both MVP and Hardy wrestled like they had something to prove," Mulrenin told us earlier today, "you could tell both were driven to show everyone they are main eventers, and they put on one hell of a show. I really thought it was a tremendous main event, and obviously the fans did, too. Great job by both!"

Here are the results from the show:

• Hurricane Shane Helms defeated Brian Anthony in the opener. Complete Hurricane outfit for Helms

• Hale Collins (of The NOW) won a five-man "Grab for the Gold" ladder match to become the No. 1 contender for Matt Taven's NEW championship. The other four participants in the match were Vik Dalishus (of The Now), Tommaso Ciampa, Ryan McBride and ECW Original Sabu
• Roxxi defeated Mia Yim with the Voodoo Drop
• Sgt. Slaughter & Pvt. Jeff Starr defeated Romeo Roselli & Max Bauer in a tag team match
• Jerry "The King" Lawler defeated Tommy Dreamer in a Steel Cage Match after throwing a fireball in Dreamer's face. The match was quite "Extreme," both inside and outside the cage

• NEW champion Matt Taven defeated Hale Collins by disqualification. Referee Kevin Keenan declared Collins had pinned Taven with an inside cradle, but fellow ref Shawn Hanson reversed the decision and disqualified Collins for accidentally superkicking him. After the match, The NOW took out referee Hanson. Ring announcer Bobby Cruise later announced that NorthEast Wrestling president Michael O'Brien has decided on a No Disqualification rematch between Taven and Collins for NorthEast's Spring Slam show on April 15th at the Newburgh Free Academy. Good to see the promotion shoot an in-house angle for their next big event.
• MVP pinned Matt Hardy in the main event of the evening

We're HustleTweeting about MVP vs Matt Hardy, and you're more than welcome to join the conversation! Follow the Hustle on Twitter HERE or write to us at hustleoncrave@gmail.com

You can also subscribe (for FREE, cheapos, absolutely FREE) to our Ultra High Quality YouTube Channel HERE, and don't forget to check out our old school social networking skills by visiting us on Facebook HERE and even on MySpace HERE

CLICK ON THE PICS BELOW TO SEE THE ENTIRE EXCLUSIVE
GALLERY OF MVP VS MATT HARDY FROM JANUARY 15, 2011!

IT'S TIME FOR AN ALL NEW EDITION OF THE HOLLYWOOD CHARLIE
MEDIA WATCH, OUR DAILY TRAVEL ACROSS THE WORLD WIDE WEB.
OUR HIGHLY TRAINED MONKEYS HAVE PICKED OUT THE 15 WILDEST
STORIES FROM THE INTERNET FOR YOUR ASTUTE REVIEW. YOUR PART
IS VERY EASY. ALL YOU NEED TO DO IS PICK A PIC … AND CLICK!