Money May Is Hyped Up and Hyping His May 4th Showdown in Las Vegas!
Floyd "Money" Mayweather's May 4th pay per view event, the 1st since JUMPING FROM HBO TO SHOWTIME is almost sold out, as Mayweather's drawing power continues to dominate the boxing world.
Within twelve hours of going on sale, less than 1,500 seats remained for the Cinco de Mayo weekend event, in which Floyd Junior will take on Robert "The Ghost" Guerrero. "Boxing fans know what they get when they purchase a ticket to a Floyd Mayweather fight," said Leonard Ellerbe, CEO of Mayweather Promotions. "Floyd is the biggest attraction in the sport and the public has responded with a brisk buying pace which has led to tickets almost being sold out in one day. This will be another great night for all of those lucky enough to be in the arena for another Mayweather experience."
"This is a testament to the interest in Floyd Mayweather and, I believe, in the inspirational story of Robert Guerrero and his will to win both in boxing and in life," Richard Schaefer, CEO Golden Boy Promotions stated in a press release. "Tickets sold quickly and without reservation for this blockbuster event on the Cinco de Mayo weekend as sports fans understand the magnitude of what it means to be a part of this tremendous night of boxing."
When Showtime brought the two of them together for a photo and video shoot, sparks were flying as Mayweather showed up late (on purpose?) and immediately started the trash talking with the normally reserved Guerrero. Of course, we're HustleTweeting about Mayweather vs Guerrero, and you're more than welcome to join the conversation by following us on twitter HERE or write us directly at hustleoncrave@gmail.com Hey, have you checked out the Hustle's Ultra High Quality You Tube Channel, with exclusive videos featuring OUR WORLD EXCLUSIVE WITH MIKE TYSON … BROCK LESNAR'S "HERE COMES THE PAIN" … ICE-T AND COCO's SEX SECRETS … TEEN SENSATION TAYLOR MOMSEN … UFC BAD BOY NICK DIAZ … THE WALKING RIOT MISSY HYATT if you're not subscribing, you're missing something … and by the ways cheapos, it's FREE! Yes, absolutely 100 percent FREE! What are you waiting for? Check it out HERE!
By the way, we're also old school social networkers, so check out our interactive skills on Facebook HERE and even on MySpace HERE. If you're on Friendster, GFY … and have a pleasant tomorrow!
FLOYD "MONEY" MAYWEATHER GETS UP IN ROBERT GUERRERO'S FACE!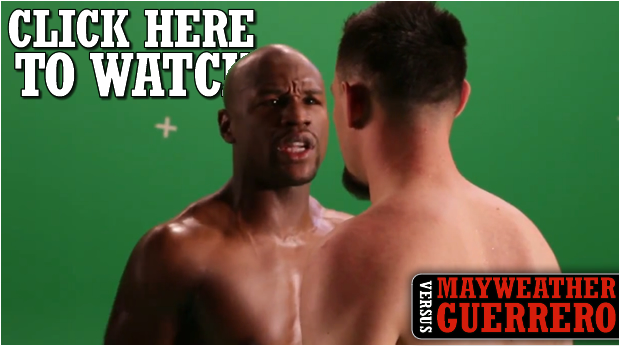 WE HERE AT THE HEYMAN HUSTLE HAVE ENSLAVED HIGHLY TRAINED
MONKEYS TO IGNORE THE FACT THEY ARE OVERWORKED AND UNDERPAID,
ALL IN THE NAME OF SCOURING THE WORLD WIDE WEB TO FIND THE FIFTEEN
MOST PROVOCATIVE STORIES ON THE INTERNET. ALL FOR YOU. NO ONE ELSE
BUT YOU. JUST YOU. AND ALL YOU NEED TO DO IS PICK WHICH PIC TO CLICK!