The WWE Hall of Famer Heaps a Mountain of Praise (Is There a Volcano in that Mountain?) on Our Very Own Hustler De Tuti Hustler's Historic Tirade on Monday Night's LIVE Broadcast!
Mick Foley doesn't get impressed by promos too often. Nor should he. The legendary Hardcore Icon delivered some of the most memorable interviews in pro wrestling history during his career, and now tours the world delivering one man shows that showcase his amazing ability to speak to the audience. But while Mick may have seen it all, he never saw anything like PAUL HEYMAN'S "LAVA" PROMO, and it prompted the New York Times Best Selling Author to speak out!
RAW IS HEYMAN!
How about that promo by Paul Heyman? To the casual fan, Paul Heyman might appear to be the same guy he's always been – shifty, deceitful, unscrupulous. But a closer examination reveals Heyman to be almost chameleon-like in his evolution; adapting at all times to his surroundings, always staying one step ahead of the curve, doing whatever it takes to not only survive, but thrive in the turbulent sea of professional wrestling.
Wrestling's history is full of talented performers who lacked the instinct for survival – guys who hung on to something that had worked for them, even if the times, and tastes around them were changing. The Paul Heyman who used a cell phone as a weapon in the late 80's through the mid-90's – a big, brick-like foreign object, at a time when cell-phones were still uncommon – would look ridiculous today, wielding a palm-sized I-phone. Likewise, the ball-cap wearing Heyman who inspired a ragtag band of misfits in a bingo hall into the leaders of a wrestling revolution – while still being effective, just wouldn't be as absorbing in today's game.
But this current incarnation of Paul Heyman is the best on-air representation I've seen yet from wrestling's mad scientist. Ironically, the man who often willingly depicts himself as a coward on-air, is doing some of the most courageous work I've seen – taking chances (saying "I love you" to Punk, and asking Ryback to be a Paul Heyman guy) and baring parts of his inner self that a less confident man would never dare.
Last night's RAW saw some great microphone work. Punk, as usual, was great, and Bray Wyatt has quickly turned himself into a must-see/must-hear attraction. But that Heyman promo last night was off the charts. Take a look!
So, I guess we here at THE HEYMAN HUSTLE kinda owe the loveable native of Long Island, New York, so we'd like to invite you to join him as he takes the stage and recites some stories from his fabled career: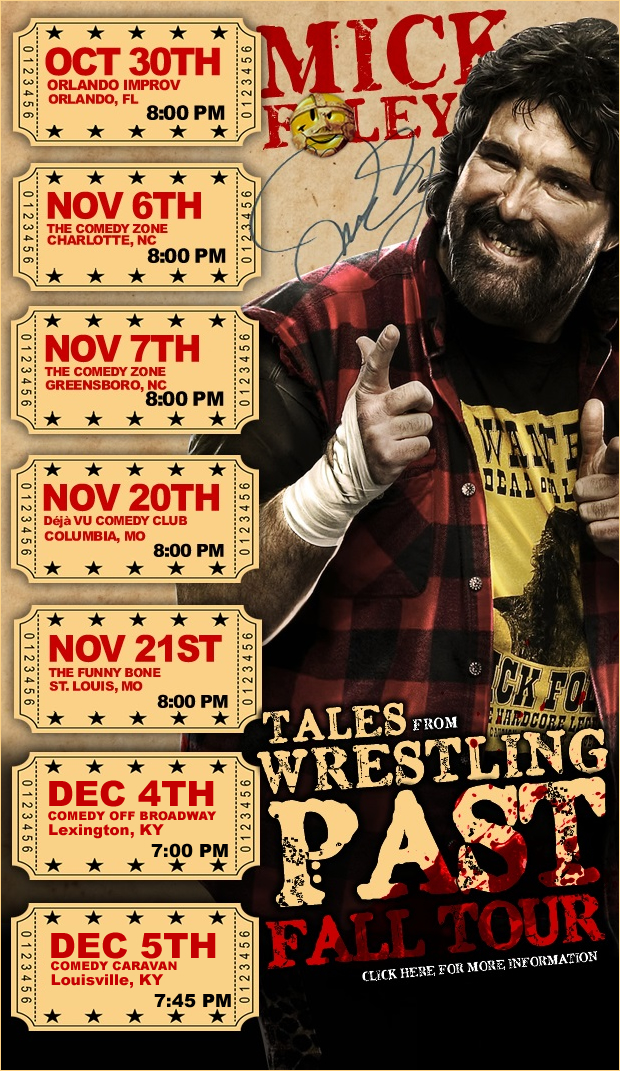 and you're more than welcome to join us by following us on twitter HERE or write us directly at hustleoncrave@gmail.com Hey, have you checked out the Hustle's Ultra High Quality You Tube Channel, with exclusive videos featuring OUR WORLD EXCLUSIVE WITH MIKE TYSON … BROCK LESNAR'S "HERE COMES THE PAIN" … ICE-T AND COCO's SEX SECRETS … TEEN SENSATION TAYLOR MOMSEN … UFC BAD BOY NICK DIAZ … THE WALKING RIOT MISSY HYATT if you're not subscribing, you're missing something … and by the ways cheapos, it's FREE! Yes, absolutely 100 percent FREE! What are you waiting for? Check it out HERE!
CLICK ON THE PICS BELOW TO SEE THE ENTIRE EXCLUSIVE "HEYMAN
HUSTLE" PHOTO GALLERY FEATURING AN EVENING ON STAGE AT THE
IMPROV WITH MICK FOLEY, WHO IS JOINED BY CANDICE MICHELLE, LILIAN
GARCIA, DOLPH ZIGGER, WILLIAM REGAL AND A HOST OF OTHERS!


WE HERE AT THE HEYMAN HUSTLE HAVE ENSLAVED HIGHLY TRAINED
MONKEYS TO IGNORE THE FACT THEY ARE OVERWORKED AND UNDERPAID,
ALL IN THE NAME OF SCOURING THE WORLD WIDE WEB TO FIND THE FIFTEEN
MOST PROVOCATIVE STORIES ON THE INTERNET. ALL FOR YOU. NO ONE ELSE
BUT YOU. JUST YOU. AND ALL YOU NEED TO DO IS PICK WHICH PIC TO CLICK!