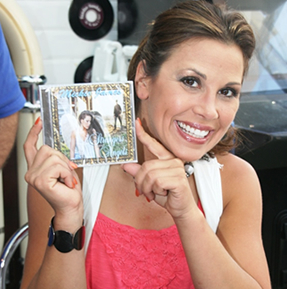 Former WWE Womens' Champion Mickie James promoted her new 11-song Country Music CD release, "Strangers and Angels" with a live appearance at the famous Seduttos Ice Cream Parlor in Staten Island, New York. THE HEYMAN HUSTLE's Bob Mulrenin was on hand to photograph the event, and told us that Mickie was a hit from the moment she walked into the long time popular Staten Island dessert haven.
"Mickie got a standing ovation, and seemed genuinely touched by it," Bob told us earlier this evening, "I think she really misses her fans. She didn't say anything bad about World Wrestling Entertainment (who released Mickie in April). She didn't say much nice about them, either. She was happy just chatting away with her fans, signing autographs, posing for pictures, and talking about her country music aspirations."

Bob added, "all in all, a really good day for the fans, who got to get up close and personal with someone who took the time to make each fan feel very special."
CLICK ON THE PICS BELOW TO SEE THE ENTIRE
GALLERY OF MICKIE JAMES IN STATEN ISLAND, NEW YORK!

THE HEYMAN HUSTLE'S VERY OWN TRAINED MONKEYS ARE PROUD
TO PRESENT THE TOP 15 STORIES OF THE DAY, ALL CONVENIENTLY
LINKED HERE FOR YOUR REVIEW. NO NEED TO SURF THE WEB, WE
DID ALL THE HARD WORK FOR YOU. JUST PICK A PIC AND CLICK!