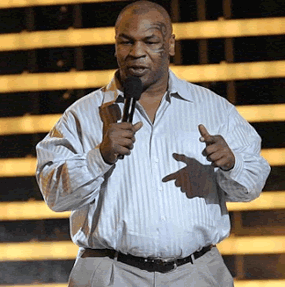 THE MOST FEARED MAN IN BOXING'S DRAMATIC WEIGHT LOSS PROMPTS SOME EXCITING QUESTIONS!
Back in the day, he was known as "The Baddest Man on the Planet," but a heaping-helping of self-loathing and a whole lotta depression drove the once-feared thug to a tremendous weight gain that had everyone wondering "what happened to Iron Mike?"

Check out the Comparison Pic above to see Mike late last year at his heaviest.

But now it looks like the ear-munching former Heavyweight Champion of the World has turned things around by cutting out all meat and animal products, and is strictly a Vegan! The Cannibal turns Herbivore!

CLICK HERE TO SEE MIKE TYSON ON ITALY'S VERSION OF "DANCING WITH THE STARS"

CLICK HERE TO SEE PHOTOS OF A HEAVY IRON MIKE'S FIRST MEETING WITH KIMBO SLICE

So of course the big question is "Is Mike Tyson Planning A Comeback?"

Inside sources close to Tyson tell THE HEYMAN HUSTLE that Tyson is, much to the dismay of all those seeking just one more demonstration of the ferocious boxer who terrorized the sports world, not planning a comeback. He's just trying to find some inner peace, we're told, which includes spending considerable time
raising and racing pigeons (as featured on "Animal Planet" last month), and spending time at home with his wife and children.

While Tyson may be in "fighting shape," he's not headed back into the ring, unless DON KING can persuade him to don the tights one more time. Our inside sources insist it isn't going to happen, but the lure of big money (and a Tyson comeback fight would be huge) may be too much temptation for the bad boy from the Brownsville section of Brooklyn, New York to resist.

CLICK ON THE PHOTOS BELOW TO SEE THE ENTIRE
GALLERY OF THE ALL NEW AND IMPROVED IRON MIKE TYSON!


IT'S THE HOLLYWOOD CHARLIE MEDIA WATCH, WITH THE
15 BEST STORIES FROM ALL AROUND THE WORLD.
WELL, ALL AROUND THE WORLD WIDE WEB.
BUT YOU ALREADY KNEW THAT, DIDN'T YOU?
PLEASE PICK A PIC AND CLICK!