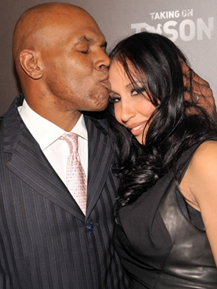 A Kinder, Gentler "Iron Mike" Throws A Premiere Party at The Gansevoort Park Avenue!
Just a few blocks down from our offices here at LOOKING 4 LARRY (parent company of THE HEYMAN HUSTLE), the Animal Planet network threw a major shindig to promote the premiere of "Taking On Tyson," the new show featuring the former Heavyweight Boxing Champion of the World.
CLICK HERE FOR "OUTSIDE OUR WINDOW: SPORTS ILLUSTRATED COVER GIRL IRINA SHAYK!"
CLICK HERE FOR "OUTSIDE OUR WINDOW: THE WOMAN WHO ALMOST MADE IT INTO THE GROUP AS ONE OF CHARLIE SHEEN'S GODDESSES, KACEY JORDAN!"
Tyson, who raised pigeons as a boy growing up on the tough streets of Brooklyn, is seen on the show lovingly cleaning out coops and feeding the birds to get them ready for a race. He joins forces with veteran trainers to put together a team that will compete in New Jersey.
"This is something that has really brought meaning to me and my life," Tyson stated, "This is not a hobby. This is something we're going to do until the day we die. I love being in my pigeon world. It brings me a calm."
Tyson also told the story of the incident that lead to the first time he ever through a punch. A bully picked on the young Tyson, and twisted one of his birds' heads.
"'That was the first time I threw a punch," Tyson stated, "The pigeons are always loyal and loving. And racing pigeons is on a different level but is as competitive and intense as boxing."
We're HustleTweeting about Mike Tyson and his new program, and you're more than welcome to join us! Follow the Hustle on Twitter HERE or write to us at hustleoncrave@gmail.com
You can also subscribe (for FREE, cheapos, absolutely FREE) to our Ultra High Quality YouTube Channel HERE, and don't forget to check out our old school social networking skills by visiting us on Facebook HERE and even on MySpace HERE
CLICK ON THE PICS BELOW TO SEE THE ENTIRE GALLERY FEATURING
MIKE TYSON AT THE PREMIERE OF HIS NEW "ANIMAL PLANET" TV SHOW!

IT'S TIME FOR AN ALL NEW EDITION OF THE HOLLYWOOD CHARLIE
MEDIA WATCH, OUR DAILY TRAVEL ACROSS THE WORLD WIDE WEB.
OUR HIGHLY TRAINED MONKEYS HAVE PICKED OUT THE 15 WILDEST
STORIES FROM THE INTERNET FOR YOUR ASTUTE REVIEW. YOUR PART
IS VERY EASY. ALL YOU NEED TO DO IS PICK A PIC … AND CLICK!