It's All Miley – All The Time … as America's Favorite Pop Tart Makes Global Headlines with Her Twerking Teacher at the LIV Nightclub in Miami!
Miley Cyrus continues to cause global headlines, one after the other. It really all started when MILEY TWERKED ALL OVER ROBIN THICKE AT THE MTV VMA AWARDS … and then continued in a very big way when MILEY TWERKED SANTA ON STAGE! But with the "Wrecking Ball" video already legendary, Miley knew she had to top herself, so MILEY RELEASED A "NSFW" CLIP FROM "ADORE YOU" to preview the December 26th release. Not content with one round of global headlines previewing her video, MILEY RELEASED A SUPER-RAUNCHY SECOND "NSFW" VIDEO PROMOTING "ADORE YOU" … but that's not all!

In her spare time, the world's most talked-about pop star likes to party. Surprise, huh? This time, Miley hit the LIV Nightclub in Miami, celebrating her success with both her diminutive buddy from her stage show, and her six foot – seven inch South Florida twerking mentor, who is known as Amazon Ashley. Hang on, folks. Miley is enjoying the attention. So she's going to do a whole lot more to keep it all focused on herself! This is going to get gooooooood!

Of course, we're HustleTweeting about Miley Cyrus, and you're more than welcome to join us by following THE HEYMAN HUSTLE and telling us what YOU think RIGHT F'N HERE! We got the whole social media thing covered, so check out the Hustle's Ultra High Quality You Tube Channel, with exclusive videos featuring OUR WORLD EXCLUSIVE WITH MIKE TYSON … BROCK LESNAR'S "HERE COMES THE PAIN" … ICE-T AND COCO's SEX SECRETS … TEEN SENSATION TAYLOR MOMSEN … UFC BAD BOY NICK DIAZ … THE WALKING RIOT MISSY HYATT if you're not subscribing, you're missing something … and by the ways cheapos, it's FREE! Yes, absolutely 100 percent FREE! What are you waiting for? Check it out HERE!
By the way, we're also old school social networkers, so check out our interactive skills on Facebook HERE and even on MySpace HERE. If you're on Friendster, GFY … and have a pleasant tomorrow!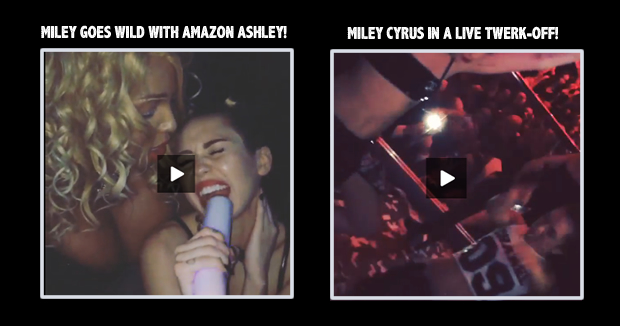 WE HERE AT THE HEYMAN HUSTLE HAVE ENSLAVED HIGHLY TRAINED
MONKEYS TO IGNORE THE FACT THEY ARE OVERWORKED AND UNDERPAID,
ALL IN THE NAME OF SCOURING THE WORLD WIDE WEB TO FIND THE FIFTEEN
MOST PROVOCATIVE STORIES ON THE INTERNET. ALL FOR YOU. NO ONE ELSE
BUT YOU. JUST YOU. AND ALL YOU NEED TO DO IS PICK WHICH PIC TO CLICK!