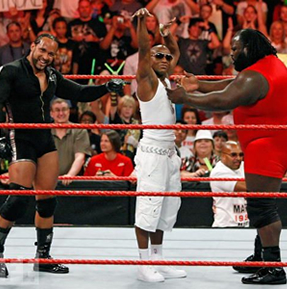 HUSTLE EXCLUSIVE!
It is 2:35 am in New York, and THE HEYMAN HUSTLE has confirmed former WWE United States Heavyweight Champion MVP has landed in Japan and is on his way to the offices of New Japan Pro Wrestling. MVP will make his New Japan debut this weekend when he teams with Nosawa to take on Togi Makabe and Tomoaki Honma in what should be a fantastic tag team match!

I just got off the phone with our own HUSTLER DE TUTI HUSTLERS PAUL HEYMAN, who tweeted Congratulations to @The305MVP for arriving in Japan, embarking on a new journey. Your story is an inspiration. Your friendship is a blessing. I am honored to be your friend! Shalom Aleichem!

We will have much more on MVP's Journey to Japan this weekend here on the Hustle!
Of course, we're HustleTweeting about MVP, and you're more than welcome to join us! Follow The Hustle on on Twitter HERE or write to us at hustleoncrave@gmail.com
You can also subscribe (for FREE, cheapos, absolutely FREE) to our Ultra High Quality YouTube Channel HERE, and don't forget to check out our old school social networking skills by visiting us on Facebook HERE and even on MySpace HERE
CLICK ON THE PICS BELOW TO SEE THE ENTIRE GALLERY
FEATURING MVP VS MATT HARDY FROM POUGHKEEPSIE, NEW YORK!

IT'S TIME FOR AN ALL NEW EDITION OF THE HOLLYWOOD CHARLIE
MEDIA WATCH, OUR DAILY TRAVEL ACROSS THE WORLD WIDE WEB.
OUR HIGHLY TRAINED MONKEYS HAVE PICKED OUT THE 15 WILDEST
STORIES FROM THE INTERNET FOR YOUR ASTUTE REVIEW. YOUR PART
IS VERY EASY. ALL YOU NEED TO DO IS PICK A PIC … AND CLICK!