He is the grandson of Larry "The Axe" Hennig. He is the son of "Mr. Perfect" Curt Hennig. And now, he joins the most elite group in WWE history. Along with Brock Lesnar and CM Punk, we have a brand new Paul Heyman Guy!
Joe Hennig has been pegged as a hot prospect since he helped induct his father, Mr Perfect Curt Hennig into the WWE Hall of Fame. Although he has toiled as Michael McGillicutty, those in WWE have waited for the moment where this third generation superstar would start his inevitable climb to the top of the ladder.
According to WWE.com:
The rumor bees have been a-buzzing all day about a prospective third client joining Paul Heyman's unsavory stable, and for once the whispers yielded pay dirt and not simply fool's gold. With the WWE Universe riled up, the mad scientist himself strutted into Kansas City high off Brock Lesnar's brutal win over Triple H at Extreme Rules and ready to introduce his latest dangerous ally: Curtis Axel.
Formerly known as Michael McGillicutty, Heyman swore to re-brand the onetime WWE Tag Team Champion in the "perfect" mold of his father Curt Hennig and grandfather, Larry "The Axe" Hennig, and give him an opportunity to carve out his own legend in their honor. The mad scientist was moments into his grand unveiling when Triple H crashed the party, a dire sign for the ECW founder if there ever was one. Before The King of Kings could put hands on his longtime rival, though, Axel got in Triple H's face and caught a twofold response: A stiff right hand, and a challenge from The Game to a match later in the night.
CLICK HERE TO PURCHASE THE OFFICIAL "PAUL HEYMAN GUY" T-SHIRT!
Of course, we're HustleTweeting about Curtis Axel, and you're more than welcome to join the conversation by following us on twitter HERE or write us directly at hustleoncrave@gmail.com Hey, have you checked out the Hustle's Ultra High Quality You Tube Channel, with exclusive videos featuring OUR WORLD EXCLUSIVE WITH MIKE TYSON … BROCK LESNAR'S "HERE COMES THE PAIN" … ICE-T AND COCO's SEX SECRETS … TEEN SENSATION TAYLOR MOMSEN … UFC BAD BOY NICK DIAZ … THE WALKING RIOT MISSY HYATT if you're not subscribing, you're missing something … and by the ways cheapos, it's FREE! Yes, absolutely 100 percent FREE! What are you waiting for? Check it out HERE!
By the way, we're also old school social networkers, so check out our interactive skills on Facebook HERE and even on MySpace HERE. If you're on Friendster, GFY … and have a pleasant tomorrow!
CLICK ON THE PICS BELOW TO SEE THE OFFICIAL WWE PHOTO GALLERY
FEATURING PAUL HEYMAN ANNOUNCING CURTIS AXEL AS THE BRAND NEW
"PAUL HEYMAN GUY" LIVE ON THIS WEEK'S MONDAY NIGHT RAW!

LADIES AND GENTLEMEN … THE NEW PAUL HEYMAN GUY!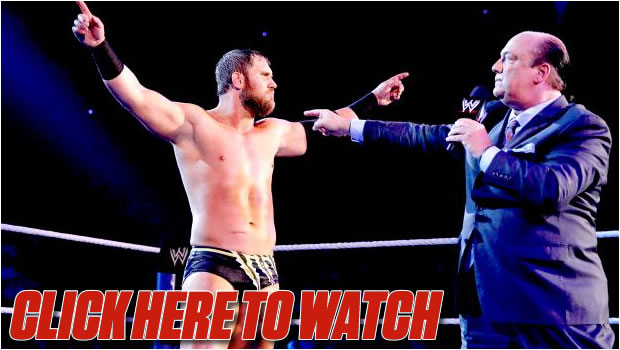 WE HERE AT THE HEYMAN HUSTLE HAVE ENSLAVED HIGHLY TRAINED
MONKEYS TO IGNORE THE FACT THEY ARE OVERWORKED AND UNDERPAID,
ALL IN THE NAME OF SCOURING THE WORLD WIDE WEB TO FIND THE FIFTEEN
MOST PROVOCATIVE STORIES ON THE INTERNET. ALL FOR YOU. NO ONE ELSE
BUT YOU. JUST YOU. AND ALL YOU NEED TO DO IS PICK WHICH PIC TO CLICK!