UFC 158 is less than a week away, and The Stockton Bad Boy took offense to GSP's claim about training with better boxers. So Nick Diaz decided to do a workout in front of the cameras!
As we count down the final days before the most eagerly anticipated, heavily-hyped grudge match in UFC history, both Nick Diaz and Georges St-Pierre are trying to get into each other's heads. Did you hear THE UFC 158 CONFERENCE CALL in which GSP lashed out at Diaz after a profanity-laced promo cut by Diaz saying St-Pierre was "pampered"?
Now, Nick Diaz wants to continue applying the pressure to the Undisputed Welterweight Champion of the World. He allowed a camera crew to shoot his 25 minute speed bag workout. If he wasn't in GSP's before, he surely needs to be now!
Of course, we're HustleTweeting about Nick Diaz vs GSP, and you're more than welcome to join the conversation by following us on twitter HERE or write us directly at hustleoncrave@gmail.com Hey, have you checked out the Hustle's Ultra High Quality You Tube Channel, with exclusive videos featuring OUR WORLD EXCLUSIVE WITH MIKE TYSON … BROCK LESNAR'S "HERE COMES THE PAIN" … ICE-T AND COCO's SEX SECRETS … TEEN SENSATION TAYLOR MOMSEN … UFC BAD BOY NICK DIAZ … THE WALKING RIOT MISSY HYATT if you're not subscribing, you're missing something … and by the ways cheapos, it's FREE! Yes, absolutely 100 percent FREE! What are you waiting for? Check it out HERE!
By the way, we're also old school social networkers, so check out our interactive skills on Facebook HERE and even on MySpace HERE. If you're on Friendster, GFY … and have a pleasant tomorrow!
NICK DIAZ vs THE SPEED BAG!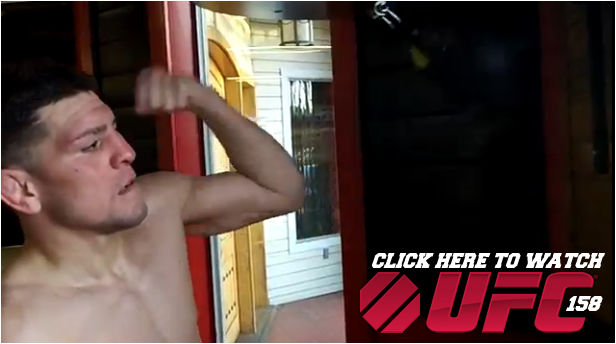 WE HERE AT THE HEYMAN HUSTLE HAVE ENSLAVED HIGHLY TRAINED
MONKEYS TO IGNORE THE FACT THEY ARE OVERWORKED AND UNDERPAID,
ALL IN THE NAME OF SCOURING THE WORLD WIDE WEB TO FIND THE FIFTEEN
MOST PROVOCATIVE STORIES ON THE INTERNET. ALL FOR YOU. NO ONE ELSE
BUT YOU. JUST YOU. AND ALL YOU NEED TO DO IS PICK WHICH PIC TO CLICK!