The City That Never Sleeps Now Has An Attraction Worth Staying Up For!
It is the world's most famous office building, an iconic landmark that one cannot possibly imagine the New York City skyline being without. And now, it's more spectacular than ever!

The Empire State Building has undergone a sensational lighting renovation, and native New Yorker Alicia Keys got to pull the switch and have two of her songs synchronized to the debut of the LED lighting show.

In a press release, the landmark skyscraper announced that the Philips Color Kinetic lighting program allows "customized light capabilities from a palette of over 16 million colors in limitless combinations along with effects previously not possible such as ripples, cross-fades, sparkles, chasers, sweeps, strobes and bursts. In addition to greater control and management of the lighting, the new computerized system will deliver superior light and vibrancy levels in real-time, unlike the previous floodlights."
For years, the top section of the Empire State Building has been illuminated with colors that indicate a particular event or person. So when the Yankees make the World Series, you'll see blue and white. On St Patrick's Day, the top section is green. You get the point, right?
The inaugural light show was synchronized to Alicia Keys' recent hit "Girl On Fire" as well as the more obvious choice of her mega-hit "Empire State of Mind." Nice. Bet Billy Joel was in Long Island, throwing darts at old photos of Christie Brinkley screaming "how about New York State of Mind?"
Hey, they could have had a Sinatra hologram do "New York New York," right?
Credit our own Hustler De Tuti Hustler Paul Heyman for those last two comments. I don't plagiarize from my own boss. Duh.
"The Empire State Building has always been a symbol of what's possible in New York," Keys said of the show. "And all the dreams that can come true in this city that never sleeps. I'm so excited to unveil the new tower lights that are going to illuminate the city below like never before … shining bright with inspiration. As a proud New Yorker, I'm so honored and humbled to be a little part of its history."
Of course, we're HustleTweeing about the new lighting for the Empire State Building, and you're more than welcome to join the conversation by following us on Twitter HERE or write us directly at hustleoncrave@gmail.com Hey, have you checked out the Hustle's Ultra High Quality You Tube Channel, with exclusive videos featuring OUR WORLD EXCLUSIVE WITH MIKE TYSON … BROCK LESNAR'S "HERE COMES THE PAIN" … ICE-T AND COCO's SEX SECRETS … TEEN SENSATION TAYLOR MOMSEN … UFC BAD BOY NICK DIAZ … THE WALKING RIOT MISSY HYATT if you're not subscribing, you're missing something … and by the ways cheapos, it's FREE! Yes, absolutely 100 percent FREE! What are you waiting for? Check it out HERE!
By the way, we're also old school social networkers, so check out our interactive skills on Facebook HERE and even on MySpace HERE. If you're on Friendster, GFY … and have a pleasant tomorrow!
CLICK ON THE PICS BELOW FOR MORE OF THE EMPIRE STATE BUILDING!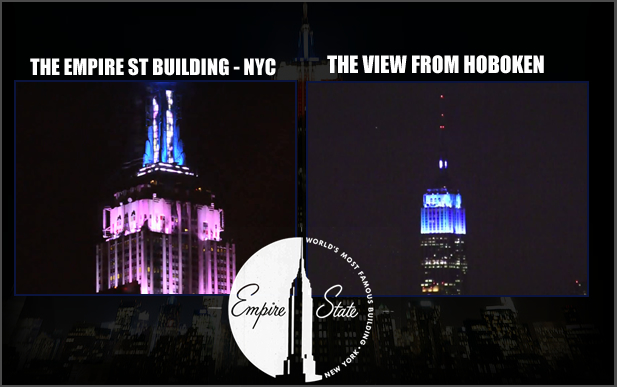 WE HERE AT THE HEYMAN HUSTLE HAVE ENSLAVED HIGHLY TRAINED
MONKEYS TO IGNORE THE FACT THEY ARE OVERWORKED AND UNDERPAID,
ALL IN THE NAME OF SCOURING THE WORLD WIDE WEB TO FIND THE FIFTEEN
MOST PROVOCATIVE STORIES ON THE INTERNET. ALL FOR YOU. NO ONE ELSE
BUT YOU. JUST YOU. AND ALL YOU NEED TO DO IS PICK WHICH PIC TO CLICK!