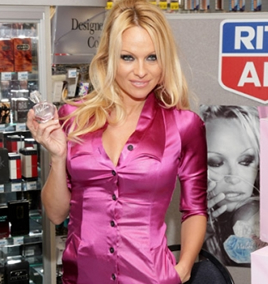 Baywatch Babe and the Queen of Homemade Sex Tapes Pam Anderson made the rounds throughout rural Pennsylvania yesterday, pimping whoring promoting her new perfume, "Malibu."
"The perfume smells just like me when I sneak out onto the beach with one of my meat puppets and do it in the sand until I think the paparazzi might show up with an infra-red lens!" Pam told a shocked group of damn-near-Amish residents of PA, "It's like the cool breeze that blows into my shirt because I have all the buttons undone down to my belly button, and I never wear a bra! Plus, the shirt is size 1, and I'm a size 4!"

Of course, Pam never said any of this. But who cares? Are you really going to buy this perfume because you think she went into the laboratory and mixed the scents until she came across just the right one?

Of course not.

You're here to see pics of Pam, and we're here to deliver. Here's the Batwatch pop wreck, actually looking pretty good on this particular occasion.
CLICK ON THE PICS BELOW
TO SEE THE ENTIRE GALLERY OF
PAM ANDERSON'S TRIP TO RURAL PENNSYLVANIA!
---
THE HEYMAN HUSTLE IS PROUD TO PRESENT THE 15 BEST
STORIES FOUND ON THE WEB OVER THE WEEKEND. DON'T
WASTE YOUR TIME SURFING, WE HAVE EVERYTHING YOU
NEED TO KNOW RIGHT HERE IN THE MEDIA WATCH. ALL
YOU NEED TO DO IS PICK A PIC … AND CLICK!