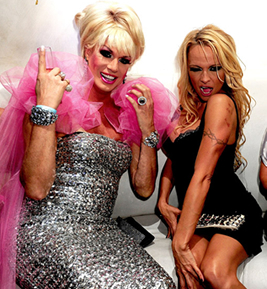 Some Stories Are Just Too Good To Be True!

Pam Anderson has done it again.
Just when you think she couldn't cause any more controversy, the Baywatch Babe is back in the spotlight for her wild frolicking around The Living Room nightclub in Miami this weekend with crosser Elaine Lancaster.
In case you couldn't tell, there was plenty of nipping and tucking going on in the 305 on Saturday night!
Elaine Lancaster is the creation of actor James Davis, an actor born in Alabama and raised in the State of Georgia. This generation's Divine and RuPaul combined, the sensational Miami socialite has a book coming out (did we just say "coming out?") in which he/she dishes on whether the rumors of a torrid hot love affair with Colin Farrell are true.
We couldn't make this stuff up!
CLICK HERE FOR THE EXCLUSIVE VIDEO OF THE WILD PRESS CONFEFENCE IN NEW ZEALAND IN WHICH A TOWEL-CLAD PAM ANDERSON GOT A "HONGI" FROM A LOCAL RUGBY SUPERSTAR!
CLICK HERE TO SEE A SET OF PAM ANDERSON PHOTOS WE HAVEN'T EXACTLY TOLD OUR ADVERTISERS WE'D BE POSTING ON THE SITE. SHHHHH. WE WON'T TELL IF YOU DON'T!
Pam and Elaine went wild at The Living Room, and hammed it up for the paparazzi that were able to get inside the exclusive nightclub.
Of course, we're HustleTweeting our asses off about Pam Anderson and this latest wild adventure, and you're more than welcome to join the conversation by following THE HEYMAN HUSTLE on Twitter HERE or write to us at hustleoncrave@gmail.com
You can also subscribe (for FREE, cheapos, absolutely FREE) to our Ultra High Quality YouTube Channel HERE, and don't forget to check out our old school social networking skills by visiting us on Facebook HERE and even on MySpace HERE
CLICK ON THE PICS BELOW FOR THE ENTIRE UNCENSORED GALLERY
THAT IN SOME WAYS IS BETTER THAN PAM'S ORIGINAL SEX TAPE!

IT'S TIME FOR AN ALL NEW EDITION OF THE HOLLYWOOD CHARLIE
MEDIA WATCH, OUR DAILY TRAVEL ACROSS THE WORLD WIDE WEB.
OUR HIGHLY TRAINED MONKEYS HAVE PICKED OUT THE 15 WILDEST
STORIES FROM THE INTERNET FOR YOUR ASTUTE REVIEW. YOUR PART
IS VERY EASY. ALL YOU NEED TO DO IS PICK A PIC … AND CLICK!