WWE Closes Out 2013 with a Bang, as Triple H Shocks the Universe By Bringing Out The Baddest Man on the Planet and our very own Hustler De Tuti Hustlers!
Brock Lesnar and Paul Heyman have returned to WWE, and The Beast Incarnate made an immediate impact by destroying Mark Henry after our boss declared his client's desire to challenge for the WWE World Heavyweight Championship. According to WWE.com:
If the WWE Universe ever questioned Triple H's judgment of "best for business," they were certainly left silent when the COO summoned the man who nearly ended his career (twice), Brock Lesnar, to Raw and allowed The Anomaly to deliver a blockbuster announcement. Flanked, as ever, by the returning Paul Heyman, The Beast Incarnate declared himself the first challenger to whoever wins the John Cena-Randy Orton WWE World Heavyweight Championship rematch at Royal Rumble, and dared any Superstar who didn't like it to say so to his face. The former Undisputed Champion's rhetoric didn't sit too well with Mark Henry, who wasted no time in taking Lesnar up on his offer. The World's Strongest Man didn't get a proper chance at Brock, though, as The Anomaly jumped Henry before he could enter the ring and blasted the former World Heavyweight Champion through the barricade when their brawl spilled into the crowd, following up with a giant F-5 onto the ground.
Of course, we're HustleTweeting about Brock Lesnar and Paul Heyman's return to WWE Monday Night RAW, and you're more than welcome to join the conversation by following THE HEYMAN HUSTLE on Twitter HERE or write to us directly at hustleoncrave@gmail.com Hey, have you checked out the Hustle's Ultra High Quality You Tube Channel, with exclusive videos featuring OUR WORLD EXCLUSIVE WITH MIKE TYSON … BROCK LESNAR'S "HERE COMES THE PAIN" … ICE-T AND COCO's SEX SECRETS … TEEN SENSATION TAYLOR MOMSEN … UFC BAD BOY NICK DIAZ … THE WALKING RIOT MISSY HYATT if you're not subscribing, you're missing something … and by the ways cheapos, it's FREE! Yes, absolutely 100 percent FREE! What are you waiting for? Check it out HERE!
By the way, we're also old school social networkers, so check out our interactive skills on Facebook HERE and even on MySpace HERE. If you're on Friendster, GFY … and have a pleasant tomorrow!
CLICK ON THE PICS BELOW TO SEE THE ENTIRE OFFICIAL WWE PHOTO
GALLERY FEATURING THE RETURN OF BROCK LESNAR AND PAUL HEYMAN!

BROCK LESNAR AND PAUL HEYMAN'S RETURN TO WWE MONDAY NIGHT RAW!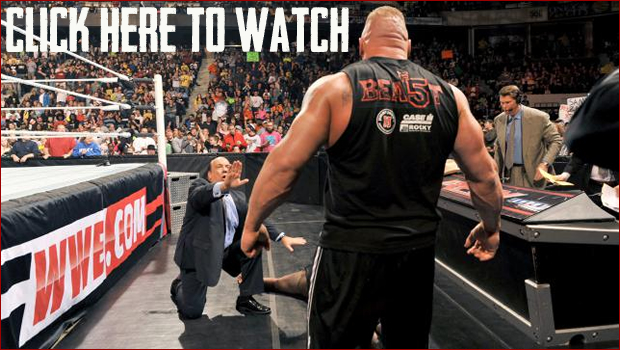 WE HERE AT THE HEYMAN HUSTLE HAVE ENSLAVED HIGHLY TRAINED
MONKEYS TO IGNORE THE FACT THEY ARE OVERWORKED AND UNDERPAID,
ALL IN THE NAME OF SCOURING THE WORLD WIDE WEB TO FIND THE FIFTEEN
MOST PROVOCATIVE STORIES ON THE INTERNET. ALL FOR YOU. NO ONE ELSE
BUT YOU. JUST YOU. AND ALL YOU NEED TO DO IS PICK WHICH PIC TO CLICK!