DATELINE: MANCHESTER, UK — Our very own Hustler De Tuti Hustlers made a shocking appearance LIVE on WWE Monday Night RAW, showing the injuries he suffered against CM Punk on top of Hell in a Cell. Heyman had a lot to say, but then CM Punk arrived on the scene!
As THE HEYMAN HUSTLE continues our coverage of events while our boss Paul Heyman is seeking alternative medical treatments in Europe to assist him recover from THE NIGHT CM PUNK ATTACKED PAUL HEYMAN ON TOP OF HELL IN A CELL … we joined the rest of a global television audience in being shocked when Paul showed up unannounced on RAW. According to WWE.com:
Paul Heyman – or at least what's left of him – is back. Flanked by the victorious Curtis Axel, the mad scientist made his return to Raw as a wheelchair-bound wretch, donning a neck brace, arm sling, back brace and leg cast. And he is not happy. Not only did Heyman more or less dismiss Ryback as a potential Paul Heyman Guy, but he blamed the WWE Universe itself for the beating CM Punk administered at Hell in a Cell. Heyman's promise of vengeance against his prodigal son was quickly interrupted by the man himself, who quickly dispatched Axel and hacked Heyman to pieces with a Kendo stick he produced from beneath the ring
Of course, we're HustleTweeting about Paul Heyman's appearance on WWE Monday Night RAW, and you're more than welcome to join the conversation by following THE HEYMAN HUSTLE and telling us what YOU think RIGHT F'N HERE! We got the whole social media thing covered, so check out the Hustle's Ultra High Quality You Tube Channel, with exclusive videos featuring OUR WORLD EXCLUSIVE WITH MIKE TYSON … BROCK LESNAR'S "HERE COMES THE PAIN" … ICE-T AND COCO's SEX SECRETS … TEEN SENSATION TAYLOR MOMSEN … UFC BAD BOY NICK DIAZ … THE WALKING RIOT MISSY HYATT if you're not subscribing, you're missing something … and by the ways cheapos, it's FREE! Yes, absolutely 100 percent FREE! What are you waiting for? Check it out HERE!
CLICK ON THE PICS BELOW TO SEE THE ENTIRE OFFICIAL WWE PHOTO
GALLERY FEATURING PAUL HEYMAN'S SURPRISE RETURN TO MONDAY NIGHT
RAW … AND THE SUBSEQUENT BRUTAL ATTACK BY CM PUNK!

HERE'S THE ENTIRE SEGMENT FEATURING PAUL HEYMAN AND CM PUNK!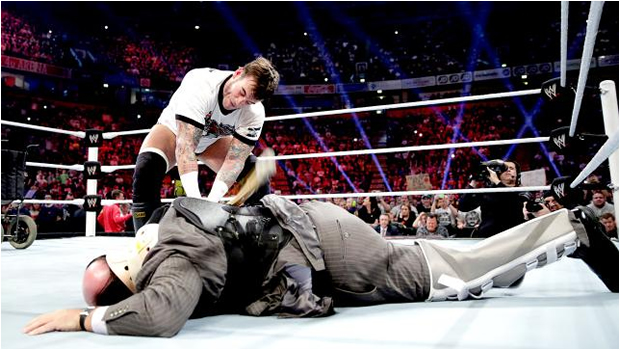 WE HERE AT THE HEYMAN HUSTLE HAVE ENSLAVED HIGHLY TRAINED
MONKEYS TO IGNORE THE FACT THEY ARE OVERWORKED AND UNDERPAID,
ALL IN THE NAME OF SCOURING THE WORLD WIDE WEB TO FIND THE FIFTEEN
MOST PROVOCATIVE STORIES ON THE INTERNET. ALL FOR YOU. NO ONE ELSE
BUT YOU. JUST YOU. AND ALL YOU NEED TO DO IS PICK WHICH PIC TO CLICK!