WWE Monday Night RAW Audience in complete shock over this week's turn of events in Biloxi, Mississippi!
The entire situation with our very own Hustler De Tuti Hustlers Paul Heyman and his former best friend CM Punk has spiraled out of control in WWE … so much so, that our boss shocked even the most hardcore WWE fans this week with what he did on Monday Night RAW from Biloxi, Mississippi. WWE.com provides the coverage from the live broadcast:
Daniel Bryan's not the only one who had a big proposal in mind this week. Ever since he was "saved" by Ryback at Night of Champions, Paul Heyman's had a spring in his step and he decided to make it official in Mississippi: Promising to make an "honest man" out of Ryback, Heyman quite literally bent the knee before "The Big Guy" and humbly proposed that he become the latest Paul Heyman Guy.
Before Ryback could respond, though, CM Punk's music sounded once again and the former WWE Champion made his entrance through the crowd, though he apparently tweaked his knee hopping the barricade. With his defenses lowered, Heyman slowly approached his former protégé and Punk revealed the injury was a ruse, producing a Kendo stick from beneath the ring and going to town on Heyman, Ryback, and finally Curtis Axel, who ran down to save his boss and was promptly put to sleep for his troubles.
Of course, we're HustleTweeting about Paul Heyman … CM Punk … and Ryback … and you're more than welcome to join our conversation by following THE HEYMAN HUSTLE and telling us what YOU think RIGHT F'N HERE! We got the whole social media thing covered, so check out the Hustle's Ultra High Quality You Tube Channel, with exclusive videos featuring OUR WORLD EXCLUSIVE WITH MIKE TYSON … BROCK LESNAR'S "HERE COMES THE PAIN" … ICE-T AND COCO's SEX SECRETS … TEEN SENSATION TAYLOR MOMSEN … UFC BAD BOY NICK DIAZ … THE WALKING RIOT MISSY HYATT if you're not subscribing, you're missing something … and by the ways cheapos, it's FREE! Yes, absolutely 100 percent FREE! What are you waiting for? Check it out HERE!
CLICK ON THE PICS BELOW TO SEE THE ENTIRE OFFICIAL WWE PHOTO
GALLERY FEATURING THE ALREADY-CONTROVERSIAL "PROPOSAL" FROM OUR
VERY OWN HUSTLER DE TUTI HUSTLERS PAUL HEYMAN TO RYBACK!

PAUL HEYMAN PROPOSES TO RYBACK … UNEDITED AND UNCENSORED!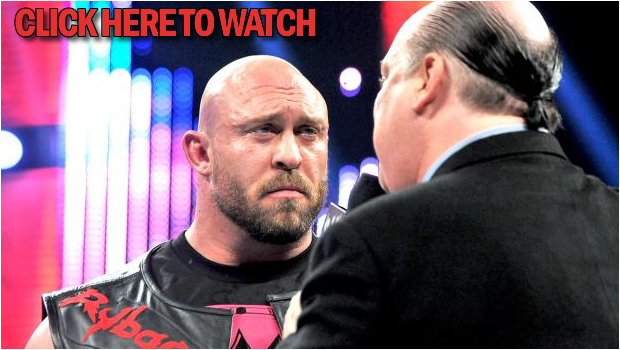 WE HERE AT THE HEYMAN HUSTLE HAVE ENSLAVED HIGHLY TRAINED
MONKEYS TO IGNORE THE FACT THEY ARE OVERWORKED AND UNDERPAID,
ALL IN THE NAME OF SCOURING THE WORLD WIDE WEB TO FIND THE FIFTEEN
MOST PROVOCATIVE STORIES ON THE INTERNET. ALL FOR YOU. NO ONE ELSE
BUT YOU. JUST YOU. AND ALL YOU NEED TO DO IS PICK WHICH PIC TO CLICK!