Our wheelchair-bound Hustler De Tuti Hustlers declares himself to be The Best in the World, and reveals he didn't plan for Ryback to save his ass against CM Punk at WWE Night of Champions … but he's damn glad Ryback did!
Dateline Cleveland, Ohio: Our boss Paul Heyman's first public appearance since Sunday night's WWE Night of Champions (which will forever be remembered as the night PAUL HEYMAN SCORED A PINFALL VICTORY OVER CM PUNK) took place on WWE Monday Night RAW, and even more headlines were made as Paul revealed that Ryback acted on his own accord in interfering in the No Disqualification Handicap Elimination Match on Sunday night, and then planted a appreciative kiss on Ryback's cheek.
According to WWE.com:
Yes, Paul Heyman defeated CM Punk in a match last night, and he's pretty happy about it. But even better for Heyman was the sudden, unexpected emergence of an apparent new "Paul Heyman Guy" that helped him achieve said victory: Ryback. Confined to a wheelchair, the mad scientist gloated his way through a victory speech before introducing Ryback as his personal savior. Ryback happily accepted Heyman's endorsement and explained his actions as defending Heyman from the hands of a "bully." Kneeling beside his new steward, "The Big Guy" gave his solemn vow to keep Punk from ever harming Heyman again before accepting a kiss on the cheek from his benefactor. If there was ever the start to a beautiful friendship, this was it.
Of course, we're HustleTweeting about Ryback … Paul Heyman … and CM Punk, and you're more than welcome to join the conversation by following THE HEYMAN HUSTLE on the soon-to-be-publicly-traded Twitter HERE or write us directly at hustleoncrave@gmail.com Hey, have you checked out the Hustle's Ultra High Quality You Tube Channel, with exclusive videos featuring OUR WORLD EXCLUSIVE WITH MIKE TYSON … BROCK LESNAR'S "HERE COMES THE PAIN" … ICE-T AND COCO's SEX SECRETS … TEEN SENSATION TAYLOR MOMSEN … UFC BAD BOY NICK DIAZ … THE WALKING RIOT MISSY HYATT if you're not subscribing, you're missing something … and by the ways cheapos, it's FREE! Yes, absolutely 100 percent FREE! What are you waiting for? Check it out HERE!
CLICK ON THE PICS BELOW TO SEE THE ENTIRE OFFICIAL WWE
PHOTO GALLERY FEATURING PAUL HEYMAN'S EPIC MOMENT OF GRATITUDE
WITH RYBACK LIVE ON THE SEPTEMBER 16, 2013 EDITION OF MONDAY NIGHT RAW!

"I OWE MY LIFE TO RYBACK!"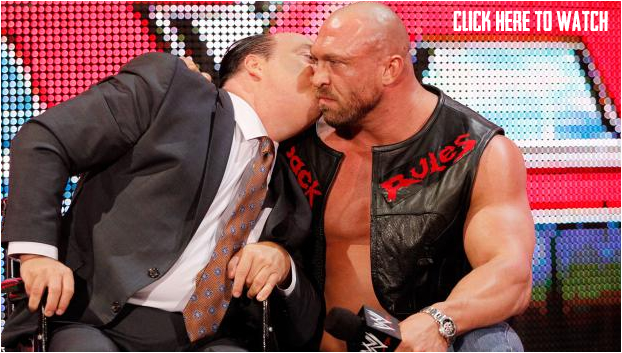 WE HERE AT THE HEYMAN HUSTLE HAVE ENSLAVED HIGHLY TRAINED
MONKEYS TO IGNORE THE FACT THEY ARE OVERWORKED AND UNDERPAID,
ALL IN THE NAME OF SCOURING THE WORLD WIDE WEB TO FIND THE FIFTEEN
MOST PROVOCATIVE STORIES ON THE INTERNET. ALL FOR YOU. NO ONE ELSE
BUT YOU. JUST YOU. AND ALL YOU NEED TO DO IS PICK WHICH PIC TO CLICK!