… and then, THE GREATEST BRAWL IN SPORTS ENTERTAINMENT HISTORY!
With the arena on lockdown due to a raging Beast on the loose, all eyes are watching for sightings of Brock Lesnar and his advocate, Paul Heyman. When The Authority spots our boss backstage, they confront him immediately. Paul Heyman has a simple request. He'd like to go out to the ring and address The Undertaker. What could go wrong?
According to WWE.com:
With Brock Lesnar barred from the building and Paul Heyman standing in the middle of the ring, it was all but a certainty that The Undertaker would target the advocate in an attempt to send a message to "The One in 22-1." It turns out that was just what The Beast was waiting for. After Heyman lured The Last Outlaw into the open with some particularly damning rhetoric, Lesnar made his move. His intrusion instigated a brawl with The Deadman that took a squadron of security guards, the entire WWE locker room and, ultimately, police reinforcement and a pair of zip ties on The Conqueror's wrists, to separate.
UPDATE: WWE.com has confirmed that, while Lesnar was taken into custody after instigating the fight with The Undertaker, all charges were dropped and he was ultimately released.
Of course, we're HustleTweeting about The Undertaker and Brock Lesnar's Brawl, and you are more than welcome to join by following the Hustle on Twitter HERE or write to us directly at hustleoncrave@gmail.com Hey, have you checked out the Hustle's Ultra High Quality You Tube Channel, with exclusive videos featuring the #HUSTLEBOOTYTEMPTATS SUPERMODEL OF THE YEAR … OUR WORLD EXCLUSIVE WITH MIKE TYSON … BROCK LESNAR'S "HERE COMES THE PAIN" … ICE-T AND COCO's SEX SECRETS … MMA BAD BOY NICK DIAZ … the list goes on and on, so if you're not subscribing, you're missing something … and by the ways cheapos, it's FREE! Yes, absolutely 100 percent FREE! What are you waiting for? Check it out HERE!
By the way, we're also old school social networkers, so check out our interactive skills on Facebook HERE and even on MySpace HERE. If you're on Friendster, GFY … and have a pleasant tomorrow!
CLICK ON THE PICS BELOW TO SEE THE ENTIRE OFFICIAL WWE PHOTO GALLERY
FEATURING PAUL HEYMAN, BROCK LESNAR, AND THE UNDERTAKER!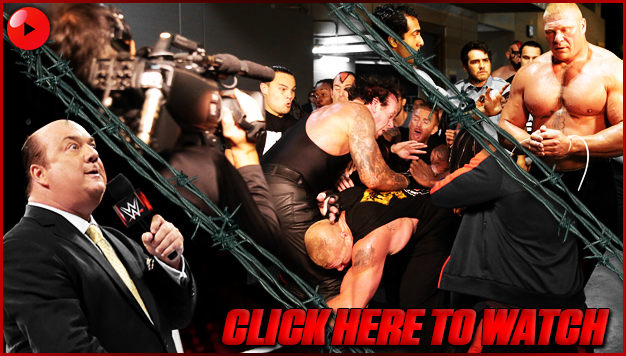 WE HERE AT THE HEYMAN HUSTLE HAVE ENSLAVED HIGHLY TRAINED
MONKEYS TO IGNORE THE FACT THEY ARE OVERWORKED AND UNDERPAID,
ALL IN THE NAME OF SCOURING THE WORLD WIDE WEB TO FIND THE FIFTEEN
MOST PROVOCATIVE STORIES ON THE INTERNET. ALL FOR YOU. NO ONE ELSE
BUT YOU. JUST YOU. AND ALL YOU NEED TO DO IS PICK WHICH PIC TO CLICK!