Let's get one thing out of the way, just so we can focus on the big picture: I'm not involved in tonight's Monday Night Wrestling head-to-head programming as SpikeTV's "TNA Impact" steps up against USA Network's "WWE Monday Night Raw."
Ironically, the fact I took my first vacation since 1993 lead to the rumors of my involvement, and those rumors ended up taking on a life of their own.

Since I've never actually enjoyed a "road trip" with my children, I figured it was time to experience a little bit of Americana with The Heyman Kids, and we set out on our little insane adventure. While I checked in regarding the Hustle (and other projects) frequently … ok, at first, obsessively, but I learned to relax a little … key words being "a little" … I didn't respond to many calls or emails.

And that's when the rumors got out of hand. "Heyman's bringing in RVD and Ken Anderson…" "Heyman's opening up the show on January 4th…" "Heyman is a 75% lock to start on Impact."

I wish someone would have taken some action on that percentage. My money would have been on the 25% that I wasn't showing up.

I've been the subject of rumors before, but when close friends in both WWE and TNA (sorry Dixie, WWE still gets top billing for now) are calling and emailing, convinced I'm hiding the secret that I'm appearing in Orlando on January 4th, it's a bit stunning.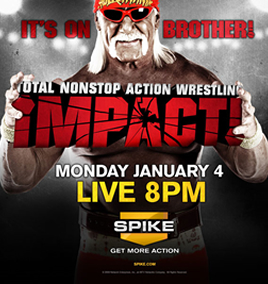 I always try to torment Jim Ross (one of my favorite pastimes) when he lets Internet reports bother him to such an extent that he'll address them on his website (and, just to be fair to my pushing-60-but-still-better-than-any-other-kid-out-there former colleague, I'll post a link to his site: http://www.jrsbarbq.com), but for the first time, I understand the need to do so. I hate addressing rumors (even when they're true), because you've set the precedent for giving comment. Therefore, the next time there's a ridiculous rumor, and you decide not to comment, people take your silence as confirmation there's something to the story, because otherwise you'd address it.

I left the wrestling business on December 4, 2006 when I shook Vince McMahon's hand after a rather volatile meeting with him and Stephanie, and I've never looked back. Some projects, like THE HEYMAN HUSTLE, are out in front of the public already, and there's a ton of others in the works. I'm in no rush. I'm taking my time. I'm enjoying my family. And (here comes the segue), I'm looking forward to what happens out of this Monday Night head-to-head programming on SpikeTV and USA Network.