CM Punk defeats Curtis Axel … and because of the WWE APP fan vote, The Best in the World gets his hands on our own Hustler De Tuti Hustlers … but then Monday Night RAW turns bloody and gruesome!
It may be the most memorable beating in WWE Monday Night RAW's recent history. Our boss Paul Heyman took a kendo stick aka "Singapore Cane" and delivered a beating to CM Punk that will not be forgotten for a long long time to come. According to WWE.com:
The only thing less surprising than the WWE Universe's App vote for this match – if CM Punk beats Curtis Axel, he gets Paul Heyman in the ring – was the fact that, when it came time to pay the proverbial piper, Heyman managed to worm his way out of his comeuppance. Despite the mad scientist's trepidation, Curtis Axel's confidence more than made up for it in the early stages of the contest: Showing no fear against the ferocious Second City Saint, Axel took advantage of Punk's bloodlust for Heyman to strong-arm the former WWE Champion into the defensive when Punk took his eye off the ball.
Though it seemed like Axel would pull off the victory, a Go to Sleep sent the gloating champion to the showers. But Punk was denied satisfaction when Axel retaliated with a low blow and incapacitated Punk with handcuffs before he could attack Heyman. The Intercontinental Champion then handed his boss a Kendo stick and the ECW mastermind went to work, hacking away at The Straight Edge Superstar until he was overcome with emotion and slumped up the ramp, looking for all the world as heartbroken as Punk was physically broken.
All in all, this was not Punk's night of retribution. Night of Champions, however, may prove to tell a different story.
and you're more than welcome to join us by following us on twitter HERE or write us directly at hustleoncrave@gmail.com Hey, have you checked out the Hustle's Ultra High Quality You Tube Channel, with exclusive videos featuring OUR WORLD EXCLUSIVE WITH MIKE TYSON … BROCK LESNAR'S "HERE COMES THE PAIN" … ICE-T AND COCO's SEX SECRETS … TEEN SENSATION TAYLOR MOMSEN … UFC BAD BOY NICK DIAZ … THE WALKING RIOT MISSY HYATT if you're not subscribing, you're missing something … and by the ways cheapos, it's FREE! Yes, absolutely 100 percent FREE! What are you waiting for? Check it out HERE!
CLICK ON THE PICS BELOW TO SEE THE OFFICIAL WWE PHOTO GALLERY
OF PAUL HEYMAN'S HISTORIC BEATDOWN OF CM PUNK ON MONDAY NIGHT RAW!

WARNING: GRAPHIC FOOTAGE!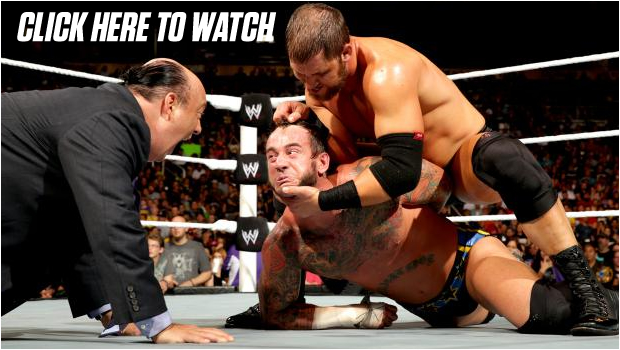 WE HERE AT THE HEYMAN HUSTLE HAVE ENSLAVED HIGHLY TRAINED
MONKEYS TO IGNORE THE FACT THEY ARE OVERWORKED AND UNDERPAID,
ALL IN THE NAME OF SCOURING THE WORLD WIDE WEB TO FIND THE FIFTEEN
MOST PROVOCATIVE STORIES ON THE INTERNET. ALL FOR YOU. NO ONE ELSE
BUT YOU. JUST YOU. AND ALL YOU NEED TO DO IS PICK WHICH PIC TO CLICK!