Our Very Own Hustler De Tuti Hustlers will step into the ring … in a FIGHT … on LIVE worldwide television … against WWE's Chairman of the Board!
It's a fight for the ages. One, we might add, that has been brewing a long, long, long, long time. Our very own Hustler De Tuti Hustlers Paul Heyman will step into the ring and face WWE Chairman Vincent Kennedy McMahon in what is being billed as a FIGHT that will take place this Monday night LIVE on the USA Network and across the globe on WWE's syndicated network.
WWE.com Reports:
Last week on Raw, the WWE Universe will recall, Paul Heyman told Mr. McMahon he would do "anything" to give CM Punk the disqualification/count-out stipulation that robbed The Rock of champion's advantage at Elimination Chamber. Anything.
Well, that, as it turns out, was a very poor choice of words. Mr. McMahon never forgets a debt, and if the WWE Universe thought he wouldn't call Paul Heyman out on his bluff then they sorely overestimated The Chairman's charity in the face of one of his most hated rivals. And what did Mr. McMahon have in mind for Heyman to return the favor? Well, how about a fight? Not a match, mind you. Not an empty challenge, not a live performance review … crutches and recovering hip and all, Paul Heyman vs. Mr. McMahon in a fight.
Oh, and by the way, Vickie Guerrero also announced she had hired Brad Maddox – the disgraced referee who was allegedly beaten down by The Shield at Heyman's request – as the Assistant to the Managing Supervisor. Fact: Between Vickie's new hire and Mr. McMahon's latest proclamation, life just got a little harder for Paul E. Heyman.
CLICK HERE TO ORDER CM PUNK'S #Knees2Faces AND THE #PaulHeymanGuy T-SHIRT COMBO!

CLICK HERE TO ORDER THE NEW BROCK LESNAR AND #PaulHeymanGuy WWE T-SHIRT COMBO!

Of course, we're HustleTweeting about PAUL HEYMAN vs VINCE McMAHON, and you're more than welcome to join the conversation by following the Hustle on Twitter HERE … Hey, we're also on Facebook HERE … and since we haven't updated our MySpace page even though Justin Timberlake has invested in your grandpa's social media, you're welcome to check out our much-ignored page HERE.
CLICK HERE TO SEE ALL THE PHOTOS OF HOW THE HISTORIC
PAUL HEYMAN VS VINCE McMAHON "FIGHT" FOR MONDAY'S RAW WAS MADE!

VINCE McMAHON CHALLENGES PAUL HEYMAN TO A FIGHT!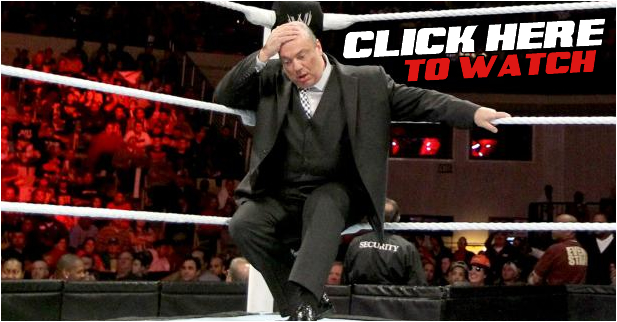 WE HERE AT THE HEYMAN HUSTLE HAVE ENSLAVED HIGHLY TRAINED
MONKEYS TO IGNORE THE FACT THEY ARE OVERWORKED AND UNDERPAID,
ALL IN THE NAME OF SCOURING THE WORLD WIDE WEB TO FIND THE FIFTEEN
MOST PROVOCATIVE STORIES ON THE INTERNET. ALL FOR YOU. NO ONE ELSE
BUT YOU. JUST YOU. AND ALL YOU NEED TO DO IS PICK WHICH PIC TO CLICK!