Get your up-to-the-minute behind the scenes scoops right here on The Hustler De Tuti Hustlers' very own website! And of course we're impartial. No favorites here. Of course not. Nope, not us!
THE HEYMAN HUSTLE is covering tonight's historic Paul Heyman vs Vincent Kennedy McMahon fight on love worldwide television from all angles, and we hope you'll interact with us as the WrestleMania gets kicked into high gear with this huge main event, along with the CM Punk vs John Cena showdown with Cena's WWE Title Match against The Rock on the line for WrestleMania April 7th!
We will be HustleTweeting, of course, and you are more than welcome to join the HustleTweeters in discussing this fight, as well as the CM Punk vs John Cena showdown with the winner going up against The Rock at WrestleMania on April 7th. All you have to do is follow the Hustle on Twitter HERE
Our Hustle Facebook page is on fire right, with plenty of interactive conversation available HERE
You can order your very own CM Punk #Knees2Faces and the #PaulHeymanGuy T-Shirt package from WWE, still in time for WrestleMania, and available in all sizes HERE
The Brock Lesnar and #PaulHeymanGuy T-shirt package is also available, and also in time for WrestleMania (and yes, available in all sizes) HERE
We welcome your comments via email, as always. We love hearing from our readers. You can write to us at hustleoncrave@gmail.com anytime, 24/7/365. Don't be shy. We're here to Hustle!
PAUL HEYMAN SQUARES OFF AGAINST VINCENT KENNEDY McMAHON!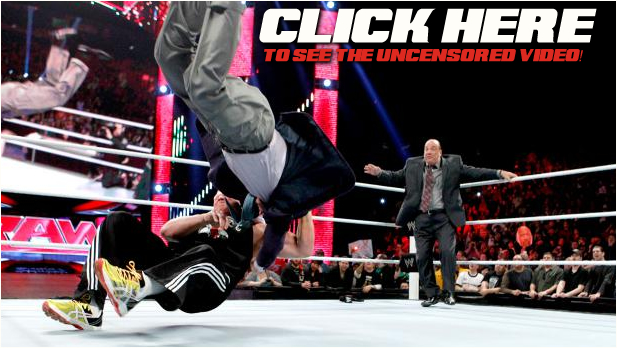 WE HERE AT THE HEYMAN HUSTLE HAVE ENSLAVED HIGHLY TRAINED
MONKEYS TO IGNORE THE FACT THEY ARE OVERWORKED AND UNDERPAID,
ALL IN THE NAME OF SCOURING THE WORLD WIDE WEB TO FIND THE FIFTEEN
MOST PROVOCATIVE STORIES ON THE INTERNET. ALL FOR YOU. NO ONE ELSE
BUT YOU. JUST YOU. AND ALL YOU NEED TO DO IS PICK WHICH PIC TO CLICK!