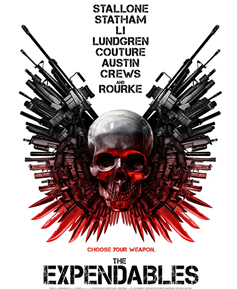 The Heyman Hustle Presents Live Coverage of The Summer's Biggest Action-Adventure Premiere!
UFC Hall of Famer (and the man who will co-main event UFC 118 against boxer James Toney in Boston) Randy "The Natural" Couture arrived with nothing but smiles for the premiere.

CLICK HERE FOR OUR EXCLUSIVE COVERAGE OF STONE COLD STEVE AUSTIN'S ARRIVAL ON THE RED CARPET FOR THE HOLLYWOOD PREMIERE OF "THE EXPENDABLES"

"The Expendables" stars Sylvester Stallone, Arnold Schwarzenegger, Bruce Willis, Jet Li, Jason Statham, Stone Cold Steve Austin, and a cast of thousands. Couture, who plays a demolition expert named Toll Road, described his character as being " a college educated warrior, basically, and he's part of this group of mercenaries. He's more of the cerebral type, but when push comes to shove he's perfectly capable and comfortable with breaking your neck. He runs around quoting Nietzsche and has a great mind, but at the same time is very physical."

When Stallone appeared on The Late Show with David Letterman, the late night talk legend asked Sly what would happen if all the tough guys in the film were in the same room at the same time, and decided to find out who was the toughest. Stallone told Letterman, "If you put all these tough guys in a room, and walked in 10 minutes later you'd see Randy Couture sitting on top of all of us, having a chocolate fudge sundae."
CLICK ON THE PHOTOS BELOW TO SEE THE ENTIRE GALLERY
OF RANDY COUTURE AT THE EXPENDABLES PREMIERE!

THE HEYMAN HUSTLE'S VERY OWN TRAINED MONKEYS ARE PROUD
TO PRESENT THE TOP 15 STORIES OF THE DAY, ALL CONVENIENTLY
LINKED HERE FOR YOUR REVIEW. NO NEED TO SURF THE WEB, WE
DID ALL THE HARD WORK FOR YOU. JUST PICK A PIC AND CLICK!