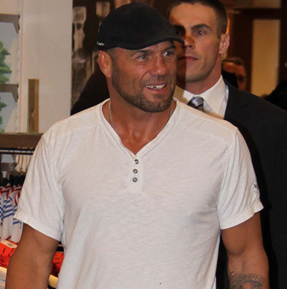 One Day After Being Knocked Out By Lyoto Machida, The Legendary UFC Hall of Famer Has No Regrets About Retiring!

Randy Couture may have a missing tooth, but he's all smiles.
"The Natural" made his scheduled appearance in Toronto the day after he suffered a brutal knockout at the hands of Lyoto Machida, who credited his KO front kick to movie star Steven Seagal. This marks two in a row for Seagal, who was also credited by Anderson Silva for the front kick that resulted in a first round knockout victory over Vitor Belfort at UFC 126 on February 5th.
Of course, we're HustleTweeting about Randy Couture, UFC 129, and everything else you can think of, so please feel free to join the conversation by following the Hustle on Twitter HERE or write to us directly at hustleoncrave@gmail.com
You can also subscribe (for FREE, cheapos, absolutely FREE) to our Ultra High Quality YouTube Channel HERE, and don't forget to check out our old school social networking skills by visiting us on Facebook HERE and even on MySpace HERE
CLICK ON THE PICS BELOW TO SEE MORE OF RANDY COUTURE
MAKING HIS PERSONAL APPEARANCE EARLIER TODAY IN TORONTO!

IT'S TIME FOR AN ALL NEW EDITION OF THE HOLLYWOOD CHARLIE
MEDIA WATCH, OUR DAILY TRAVEL ACROSS THE WORLD WIDE WEB.
OUR HIGHLY TRAINED MONKEYS HAVE PICKED OUT THE 15 WILDEST
STORIES FROM THE INTERNET FOR YOUR ASTUTE REVIEW. YOUR PART
IS VERY EASY. ALL YOU NEED TO DO IS PICK A PIC … AND CLICK!