In one of the most historic (and epic) talking segments in the history of sports entertainment, The Best in The World and our very own Hustler De Tuti Hustlers meet for the 1st time since Brock Lesnar F5'd CM Punk last week on RAW!
Many years from now, WWE fans will look back on this episode of RAW … and more specifically this particular segment … and say "that was one of the most momentous and amazing segments in WWE history! There's no way to describe just how huge this CM Punk – Paul Heyman segment was. WWE.com provides the newsworthy coverage:
If you believe actions speak louder than words, then the hug between CM Punk and Paul Heyman removed any doubt Punk had about whether Paul Heyman was behind Brock Lesnar's brutal attack on him.
Or did it?
If you look at Punk's eyes as he embraces Heyman, something appears to be still nagging at him. And there is certainly more than a shred of doubt within the WWE Universe, whose members are asking questions that can not be answered with a simple hug.
According to Heyman, it was Punk who picked a fight when he said Lesnar needed Heyman's help. If that is, in fact, the case and Heyman knew Lesnar was Brock Lesnar and CM Punkagitated, why didn't he warn Punk? Did Heyman even know Brock was in the arena on the night of the attack?
The Anomaly may be aligned with Heyman, but in truth, Brock is not currently under contract. So, who brought him back into WWE if it wasn't Heyman? Was it Raw Managing Supervisor Vickie Guerrero? Brad Maddox? Or, dare we say, Mr. McMahon? (Yes, Lesnar's assault several months ago resulted in surgery for the WWE Chairman, but by his own mantra, business is business.)
Lesnar's attack on Punk didn't appear to be spontaneous. His very appearance at Raw must have been planned, one would think.
This Monday, Punk & Intercontinental Champion Curtis Axel will battle The Prime Time Players when Raw rolls into the Tyson Events Center in Sioux City, Iowa. Considering that Axel, like Punk, is a "Paul Heyman Guy," will the mad scientist be at ringside? If so, how will The Second City Saint react? Or should he be more concerned with the "Heyman Guy" whose fury strikes unexpectedly and without mercy? Find out if Heyman's camp can weather these turbulent times, or if another surprise Lesnar forecast calls for more pain within his circle of champions. Tune in Monday night at 8/7 CT on USA Network.
CLICK HERE TO PURCHASE THE CM PUNK "SECOND CITY SAINT" / PAUL HEYMAN GUY OFFICIAL WWE T-SHIRT PACKAGE AT A SPECIAL DISCOUNTED PRICE FOR OUR HUSTLERS!

CLICK HERE TO READ ALL ABOUT BROCK LESNAR ATTACKING CM PUNK ON LAST WEEK'S RAW!

Of course, we're HustleTweeting about CM Punk and Paul Heyman, and you're more than welcome to join th conversation by following us on twitter HERE or write us directly at hustleoncrave@gmail.com Hey, have you checked out the Hustle's Ultra High Quality You Tube Channel, with exclusive videos featuring OUR WORLD EXCLUSIVE WITH MIKE TYSON … BROCK LESNAR'S "HERE COMES THE PAIN" … ICE-T AND COCO's SEX SECRETS … TEEN SENSATION TAYLOR MOMSEN … UFC BAD BOY NICK DIAZ … THE WALKING RIOT MISSY HYATT if you're not subscribing, you're missing something … and by the ways cheapos, it's FREE! Yes, absolutely 100 percent FREE! What are you waiting for? Check it out HERE!
CLICK ON THE PICS BELOW TO SEE THE ENTIRE OFFICIAL WWE PHOTO
GALLERY FEATURING CM PUNK AND PAUL HEYMAN FROM RAW!

HIGHLIGHTS OF CM PUNK AND PAUL HEYMAN FACE-TO-FACE ON RAW!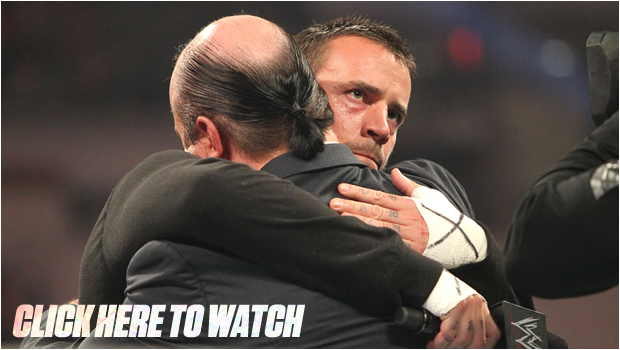 WE HERE AT THE HEYMAN HUSTLE HAVE ENSLAVED HIGHLY TRAINED
MONKEYS TO IGNORE THE FACT THEY ARE OVERWORKED AND UNDERPAID,
ALL IN THE NAME OF SCOURING THE WORLD WIDE WEB TO FIND THE FIFTEEN
MOST PROVOCATIVE STORIES ON THE INTERNET. ALL FOR YOU. NO ONE ELSE
BUT YOU. JUST YOU. AND ALL YOU NEED TO DO IS PICK WHICH PIC TO CLICK!