Our very own Hustler De Tuti Hustlers makes a second appearance on RAW … and this one has the whole WWE Universe buzzing, too!
What a 24 hours it's been for our boss, Paul Heyman. At WrestleMania XXX, his client BROCK LESNAR BROKE THE UNDERTAKER'S HISTORIC STREAK … then PAUL DELIVERED THE GREATEST PROMO OF HIS ENTIRE CAREER ON RAW … and now Paul has jumped into the headlines again by becoming the new advocate for Cesaro, the Swiss Superman Paul has nicknamed The King of Swing. According to the fine reporters at WWE.com:
He was a Real American … now he's a Paul Heyman Guy?!?!
Cesaro, who seemingly broke free of Zeb Colter's Real Americans hours before he channeled Hulk Hogan and bodyslammed Big Show out of the ring to win the Andre the Giant Memorial Battle Royal at WrestleMania 30, not only cemented his split from Colter's clan on Raw, but shocked the WWE Universe at large when he revealed his new allegiance.
The Immortal One himself had come to present Cesaro with the Andre trophy when Colter crashed the party and extolled the virtues of his mightiest "Zeb Colter Guy." The former U.S. Champion, however, politely informed The Founding Father that he was, in fact, now a Paul Heyman Guy. As Colter stood there gobsmacked and Heyman instructed the announce team how to address the "King of Swing," Jack Swagger struck from behind and destroyed the Andre trophy. Unfortunately, that only made Cesaro mad …
Of course, we're HustleTweeting about Cesaro becoming a Paul Heyman Guy, and you're more than welcome to join the conversation (and you have to realize, this is one ridiculously lively conversation) by writing us on twitter HERE or write to us directly at hustleoncrave@gmail.com  Hey, have you checked out the Hustle's Ultra High Quality You Tube Channel, with exclusive videos featuring OUR WORLD EXCLUSIVE WITH MIKE TYSON … BROCK LESNAR'S "HERE COMES THE PAIN" … ICE-T AND COCO's SEX SECRETS … MMA BAD BOY NICK DIAZ … the list goes on and on, so if you're not subscribing, you're missing something … and by the ways cheapos, it's FREE! Yes, absolutely 100 percent FREE! What are you waiting for? Check it out HERE!
By the way, we're also old school social networkers, so check out our interactive skills on Facebook HERE and even on MySpace HERE. If you're on Friendster, GFY … and have a pleasant tomorrow!
CLICK ON THE PICS BELOW TO SEE THE ENTIRE OFFICIAL WWE PHOTO
GALLERY DOCUMENTING THE HISTORIC MOMENT CESARO WAS AWARDED THE
1st ANNUAL ANDRE THE GIANT MEMORIAL BATTLE ROYAL TROPHY …
AND THEN SHOCKED THE WORLD BY BECOMING A PAUL HEYMAN GUY!

HERE IT IS! UNEDITED AND UNCENSORED! WATCH THIS CROWD EXPLODE!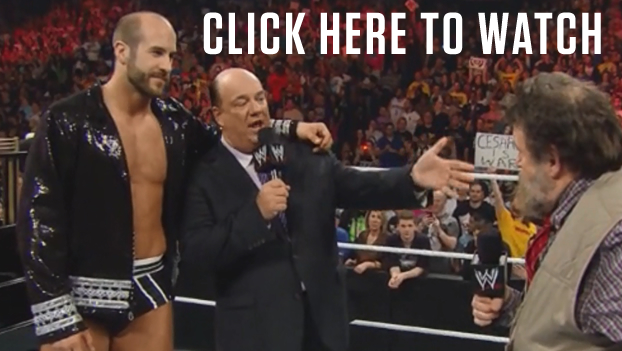 WE HERE AT THE HEYMAN HUSTLE HAVE ENSLAVED HIGHLY TRAINED
MONKEYS TO IGNORE THE FACT THEY ARE OVERWORKED AND UNDERPAID,
ALL IN THE NAME OF SCOURING THE WORLD WIDE WEB TO FIND THE FIFTEEN
MOST PROVOCATIVE STORIES ON THE INTERNET. ALL FOR YOU. NO ONE ELSE
BUT YOU.  JUST YOU. AND ALL YOU NEED TO DO  IS PICK WHICH PIC TO CLICK!