One day removed from WWE SummerSlam 2013, and CM Punk is pissed off and in the mood for a fight!
You didn't think things would quiet down after BROCK LESNAR DEFEATED CM PUNK AT WWE SUMMERSLAM, did you? Of course not! Earlier in the evening, PAUL HEYMAN OFFEERED A TRUCE TO CM PUNK but The Best in the World was in no mood for a reconciliation. According to WWE.com:
Somewhat unsurprisingly, CM Punk did not choose to back down from the fight Paul Heyman promised him. Quite the contrary, the former WWE Champion gladly rumbled with the current Intercontinental Champion in Anaheim, throwing hands in an unsanctioned fight that spilled all along the outside of the ring. Though Punk incapacitated Axel enough to get a clear path at Heyman, The Second City Saint chose to learn from his previous mistake and keep his eye on his opponent instead. The decision paid dividends, ultimately; despite nearly being crippled by a steel chair attack, the "prodigal son" showed his father figure what's what when he unloaded on Heyman's latest disciple with the chair, punctuating the attack with a Go to Sleep on the steel steps. To be continued.
We're HustleTweeting about CM Punk … Paul Heyman … Curtis Axel … Brock Lesnar … and a host of other topics, and you're more than welcome to join us by following us on twitter HERE or write us directly at hustleoncrave@gmail.com Hey, have you checked out the Hustle's Ultra High Quality You Tube Channel, with exclusive videos featuring OUR WORLD EXCLUSIVE WITH MIKE TYSON … BROCK LESNAR'S "HERE COMES THE PAIN" … ICE-T AND COCO's SEX SECRETS … TEEN SENSATION TAYLOR MOMSEN … UFC BAD BOY NICK DIAZ … THE WALKING RIOT MISSY HYATT if you're not subscribing, you're missing something … and by the ways cheapos, it's FREE! Yes, absolutely 100 percent FREE! What are you waiting for? Check it out HERE!
CLICK ON THE PICS BELOW TO SEE THE ENTIRE OFFICIAL WWE PHOTO
GALLERY FEATURING CM PUNK — PAUL HEYMAN — CURTIS AXEL ON RAW!

THE FIGHT IS ON!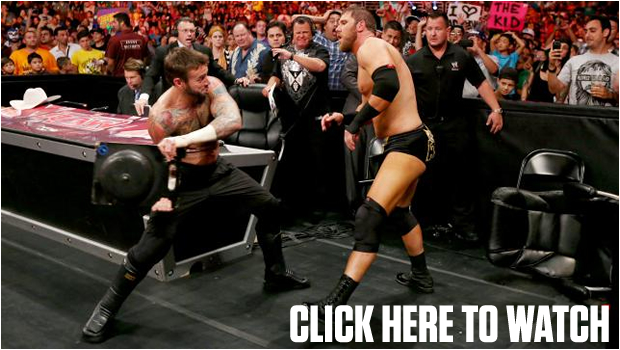 WE HERE AT THE HEYMAN HUSTLE HAVE ENSLAVED HIGHLY TRAINED
MONKEYS TO IGNORE THE FACT THEY ARE OVERWORKED AND UNDERPAID,
ALL IN THE NAME OF SCOURING THE WORLD WIDE WEB TO FIND THE FIFTEEN
MOST PROVOCATIVE STORIES ON THE INTERNET. ALL FOR YOU. NO ONE ELSE
BUT YOU. JUST YOU. AND ALL YOU NEED TO DO IS PICK WHICH PIC TO CLICK!