The hot molten #LAVA flowed down into the village of WWE Monday Night RAW in Memphis as an impromptu tag team explodes like a volcano!
Less than an hour after PAUL HEYMAN SEEMINGLY LOST HIS F'N MIND ON WWE MONDAY NIGHT RAW, our very own Hustler De Tuti Hustlers came down to the ring with Ryback and Intercontinental Champion Curtis Axel for the champ's challenge match against Big E Langston, and all hell broke loose.
What did you expect this close to WWE Hell in a Cell, when Paul and Ryback go 2-on-1 inside the Cell against CM Punk? According to WWE.com:
The mantra "no new friends" clearly doesn't apply to CM Punk & Big E Langston, who cemented their out-of-nowhere solidarity with a tag-team win over Punk's Paul Heyman-coached enemies, Curtis Axel & Ryback. The out-of-nowhere friendship proved as effective on Raw as it did on SmackDown, although Punk briefly found himself isolated by Axel and Ryback.
Punk fought back slowly and incapacitated Ryback with a kick to the head, ultimtately leaving Langston himself to do the honors. The super-sized Superstar bulldozed all over his opposition, pulverizing the Intercontinental Champion with the Big Ending to bring his team the win and allowing Punk to chase Heyman through the crowd after the final bell.
Of course, we're HustleTweeting about WWE Monday Night RAW, and you're more than welcome to join the conversation by following THE HEYMAN HUSTLE and telling us what YOU think RIGHT F'N HERE! We got the whole social media thing covered, so check out the Hustle's Ultra High Quality You Tube Channel, with exclusive videos featuring OUR WORLD EXCLUSIVE WITH MIKE TYSON … BROCK LESNAR'S "HERE COMES THE PAIN" … ICE-T AND COCO's SEX SECRETS … TEEN SENSATION TAYLOR MOMSEN … UFC BAD BOY NICK DIAZ … THE WALKING RIOT MISSY HYATT if you're not subscribing, you're missing something … and by the ways cheapos, it's FREE! Yes, absolutely 100 percent FREE! What are you waiting for? Check it out HERE!
CLICK ON THE PICS BELOW TO SEE THE ENTIRE OFFICIAL WWE PHOTO
GALLERY FEATURING PAUL HEYMAN, RYBACK, INTERCONTINENTAL
CHAMPION CURTIS AXEL, BIG E LANGSTON AND CM PUNK!

HEYMAN ATTACKS … AND PUNK GETS INVOLVED!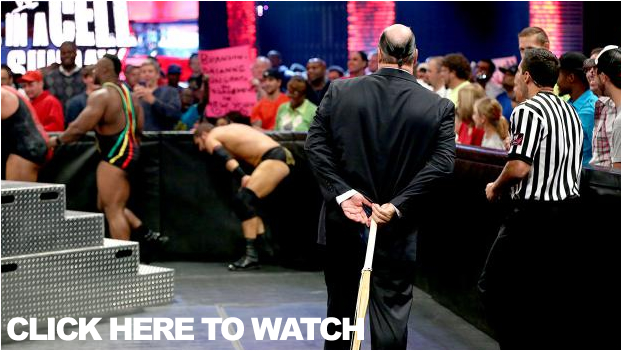 WE HERE AT THE HEYMAN HUSTLE HAVE ENSLAVED HIGHLY TRAINED
MONKEYS TO IGNORE THE FACT THEY ARE OVERWORKED AND UNDERPAID,
ALL IN THE NAME OF SCOURING THE WORLD WIDE WEB TO FIND THE FIFTEEN
MOST PROVOCATIVE STORIES ON THE INTERNET. ALL FOR YOU. NO ONE ELSE
BUT YOU. JUST YOU. AND ALL YOU NEED TO DO IS PICK WHICH PIC TO CLICK!