It's tough to be distracted from AJ Lee wearing booty shorts, but when WWE Tag Team Champions Kane and Daniel Bryan take on WWE Champion CM Punk and Mr Money in the Bank Dolph Ziggler … with both Paul Heyman and Vickie Guerrero ringside … you may want to bring a scorecard!
When Monday Night Raw went on the air live from Oklahoma City, our very own Hustler De Tuti Hustlers Paul Heyman and WWE Champion CM Punk had several items to address with the WWE Universe. But PUNK AND PAUL'S SHOW-OPENING INTERVIEW WENT HAYWIRE … then PUNK AND PAUL CONFRONTED JIM ROSS DURING GOOD OL' JR APPRECIATION NIGHT … and then it all lead to this.
WWE.COM Posted:
Looks like Team Hell No is finally getting their groove: the infighting was minimal, the chemistry was strong and the end result was undeniable when the odd-couple champions picked up a win over WWE Champion CM Punk & Mr. Money in the Bank Dolph Ziggler, with Punk himself suffering the deciding pinfall of the evening.
There was one wrinkle that did threaten to derail the whole enterprise: Following a tense job evaluation at the hands of her "Executive Coach," AJ Lee decided to prove her mettle as a leader by suiting up in the zebra stripes and taking the referee's job for the evening's main event. But despite her romantic history with the majority of the in-ring competitors, the Raw General Manager called the match fair and down the middle.
Punk & Ziggler worked surprisingly well together given their status as an odd couple. Ziggler mounted a strong offense against The Devil's Favorite Demon when he locked the monstrous Tag Champion in a sleeper hold while Punk and Bryan briefly resumed their epic, technical rivalry when the two found themselves in the ring together. The mounting synergy of Team Hell No won out in the end, however, with Kane & Bryan executing a series of tandem moves and, despite a few unwanted tags, displaying a newfound proficiency and protectiveness toward each other. Kane, in particular, seemed incensed when Ziggler attempted to batter Bryan outside the apron.
Ultimately, the team that demanded the most validation found itself short when AJ ejected Paul Heyman and Vickie Guerrero. Vickie promptly commanded Ziggler to leave as well and The Showoff, though conflicted, obliged. With Punk left alone in the lion's den, it fell to Kane to spell The Second City Saint's doom with a bone-rattling Chokeslam that left The Voice of the Voiceless staring up at the lights.
True to form, Team Hell No couldn't celebrate the victory without a little bit of infighting, as Kane and Bryan resumed their "I'm the Tag Team Champions" back and forth in Raw's closing minutes. It would appear that true harmony (and CM Punk's quest for validation) will have to wait at least one more week.
Of course, we're HustleTweeting about WWE Champion CM Punk and our own Hustler De Tuti Hustlers Paul Heyman's night in Oklahoma City, and you're more than welcome to join the conversation by following THE HEYMAN HUSTLE on Twitter HERE or write to us directly at hustleoncrave@gmail.com Hey, have you checked out the Hustle's Ultra High Quality You Tube Channel, with exclusive videos featuring OUR WORLD EXCLUSIVE WITH MIKE TYSON … BROCK LESNAR'S "HERE COMES THE PAIN" … ICE-T AND COCO's SEX SECRETS … TEEN SENSATION TAYLOR MOMSEN … UFC BAD BOY NICK DIAZ … THE WALKING RIOT MISSY HYATT if you're not subscribing, you're missing something … and by the ways cheapos, it's FREE! Yes, absolutely 100 percent FREE! What are you waiting for? Check it out HERE!
By the way, we're also old school social networkers, so check out our interactive skills on Facebook HERE and even on MySpace HERE. If you're on Friendster, GFY … and have a pleasant tomorrow!
CLICK ON THE PICS BELOW TO SEE THE ENTIRE OFFICIAL WWE GALLERY
FEATURING TEAM HELL NO VS CM PUNK AND DOLPH ZIGGLER, WITH
PAUL HEYMAN, VICKIE GUERRERO AND AJ LEE ALL INVOLVED IN THE ACTION!

HERE'S WWE's OFFICIAL HIGHLIGHT REEL OF THE MATCH!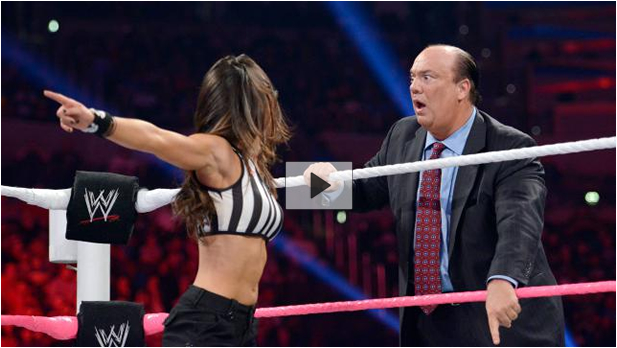 WE HERE AT THE HEYMAN HUSTLE HAVE ENSLAVED HIGHLY TRAINED
MONKEYS TO IGNORE THE FACT THEY ARE OVERWORKED AND UNDERPAID,
ALL IN THE NAME OF SCOURING THE WORLD WIDE WEB TO FIND THE FIFTEEN
MOST PROVOCATIVE STORIES ON THE INTERNET. ALL FOR YOU. NO ONE ELSE
BUT YOU. JUST YOU. AND ALL YOU NEED TO DO IS PICK WHICH PIC TO CLICK!