WWE Champion CM Punk and Paul take over the opening of Monday Night Raw … Referee Brad Maddox is called out to the ring … CM Punk loses his temper … and then all Hell breaks loose with General Manager AJ Lee!
So much happened last night on WWE Monday Night Raw, we need to do three stories just to recap all the chaos being caused by CM Punk and our very own Hustler De Tuti Hustlers Paul Heyman

As WWE.com reported, Raw kicked off not with a bang, but with a sit-in, as the cameras opened up on WWE Champion CM Punk and his associate, Paul Heyman, staging their own miniature protest and occupying the squared circle in an act of civil disobedience. "We will not be leaving until justice is served," Heyman pontificated, referring to Punk's dubious loss to John Cena the previous week, a defeat that occurred despite The Second City Saint having reached the ropes with his foot while the referee counted to three. With his evidence presented, Heyman demanded that the official, Brad Maddox, make his way to the ring, admit his error, and tender his resignation live on Raw.
After a brief pause, Maddox made his presence known, looking for all the world like a sheep on its way to the slaughter. The young referee faced Heyman's fire admirably, offering up an apology for bungling his first main event. Maddox balked, however, at the mad scientist of Extreme's demand that he tender his resignation. This brought The Second City Saint to his feet, venom spewing forth as CM Punk berated the referee for "embarrassing" both himself and the WWE Champion live on Raw. "Who are you?" Punk sneered, which brought forth the explanation: Maddox was a new referee, brought to Raw by General Manager AJ Lee after Raw expanded to three hours. Or, as Heyman put it, "you're a scab!" before presenting Maddox with a gift: a sleep mask with the WWE logo over one eye and the NFL emblem covering the other.
Before the public shaming could continue, however, AJ skipped down to the ring and excused Maddox for the time being, and a brief back-and-forth with Heyman led to Punk re-entering the fray. With tensions mounting, Punk cued up his own piece of footage: AJ's left-field marriage proposal to The Second City Saint from Raw two months earlier. "That's the reason … you sent an incompetent referee out to screw me last week," Punk continued, laughing in AJ's face. "You forget last week's match ever happened and I'll forget the hundreds of text messages and voicemails you left me that I'm not fit to air on the USA Network."
What happened next was nothing short of stunning, if we here at the Hustle do say so ourselves. And we do, we say it, we say it!
With AJ about to freak out, Paul stepped in again, and offered to navigate the political waters with the Raw GM.
That's when Paul dropped to one knee and proposed AJ marry him! "Think about all the power couples we're gonna trump!" Paul suggested, then offering to come up with all the ideas and AJ could take the credit. For the grand finale, Heyman lasciviously sneered that "I like 'em dumb, young and ambitious," which brought forth a vicious slap across the face from AJ, who stormed off, not even skipping on her way back up to the RAW set.
We will be posting highlights from the epic CM Punk vs Mick Foley confrontation, as well as the heated show-closing moments with Punk, Paul, and John Cena in just a few. Of course, we're HustleTweeting about this wild edition of WWE Monday Night Raw, and you're more than welcome to join the conversation by following THE HEYMAN HUSTLE on Twitter HERE or write to us directly at hustleoncrave@gmail.com Hey, have you checked out the Hustle's Ultra High Quality You Tube Channel, with exclusive videos featuring OUR WORLD EXCLUSIVE WITH MIKE TYSON … BROCK LESNAR'S "HERE COMES THE PAIN" … ICE-T AND COCO's SEX SECRETS … TEEN SENSATION TAYLOR MOMSEN … UFC BAD BOY NICK DIAZ … THE WALKING RIOT MISSY HYATT if you're not subscribing, you're missing something … and by the ways cheapos, it's FREE! Yes, absolutely 100 percent FREE! What are you waiting for? Check it out HERE!
By the way, we're also old school social networkers, so check out our interactive skills on Facebook HERE and even on MySpace HERE. If you're on Friendster, GFY … and have a pleasant tomorrow!
CLICK ON THE PICS BELOW FOR WWE's 360 COVERAGE OF CM PUNK
AND PAUL HEYMAN'S SIT-IN … THE INTERROGATION OF BRAD MADDOX …
AND THE MARRIAGE PROPOSAL HEARD 'ROUND THE WORLD ON MONDAY NIGHT RAW!

HERE'S VIDEO HIGHLIGHTS OF THE OPENING SEGMENT FROM RAW!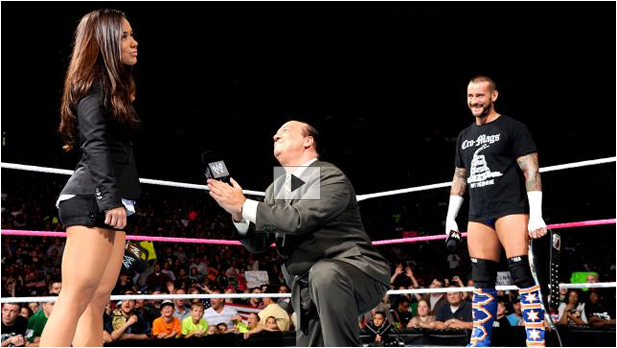 WE HERE AT THE HEYMAN HUSTLE HAVE ENSLAVED HIGHLY TRAINED
MONKEYS TO IGNORE THE FACT THEY ARE OVERWORKED AND UNDERPAID,
ALL IN THE NAME OF SCOURING THE WORLD WIDE WEB TO FIND THE FIFTEEN
MOST PROVOCATIVE STORIES ON THE INTERNET. ALL FOR YOU. NO ONE ELSE
BUT YOU. JUST YOU. AND ALL YOU NEED TO DO IS PICK WHICH PIC TO CLICK!