Part Three of our Triple Header covering a most eventful edition of WWE Monday Night Raw!
A most eventful Monday Night Raw from Albany, New York concluded with our own Hustler De Tuti Hustlers Paul Heyman accompanying WWE Champion CM Punk to the ring for a confrontation with John Cena. And then, to paraphrase Good Ol' JR, business really picked up!

According to WWE.com:

Arm sling and all, John Cena kept his word and made his way to the Times Union Center for Monday Night Raw. The Cenation leader was as stoic as ever (if not quite as jovial) when he solenly apologized to Chad Patton and Brad Maddox for their treatment at the hands of WWE Champion CM Punk, who, Cena said, had devolved in record time into a "monkey frakkin' son of a bee sting" who needed a (preferably physical) lesson from Cena. And while Cena could not guarantee a full recovery, he did issue one promise to the WWE Universe: he would walk into Hell in a Cell, and he would do so to fight.
Cena's overture was interrupted, however, by the one-man cult of personality himself. Sauntering to the ring in his blue hoodie with Heyman holding the WWE Title aloft behind him, The Second City Saint cut right to the chase regarding Cena's comments and Mick Foley's earlier plea to name the Cenation leader his No. 1 contender at Hell in a Cell.
"You shouldn't be a WWE Superstar, you should be a politician," sneered Punk, labeling the Cenation leader's comments as "character assassination." "There's one CM Punk, there always has been," sneered The Second City Saint. "It's the same one who beat you over a year ago." Punk threw out the statistics of his title reign again, which he promised would not end "at the hand of a one-armed man."
"Why don't you shut up and face me at Hell in a Cell?" Cena responded simply.
It took Punk all of five seconds to decline the challenge. And it wasn't because of Cena's surgery, or because of previous losses to The Second City Saint, but because of the beating that Punk planned to lay on Cena. Punk, he explained, was going to turn his back for five seconds, and if Cena was still there when he turned around, "I'm gonna hurt you so bad it's gonna make the last eight days look like a picnic at the beach."
Punk did indeed turn around, but what he didn't expect was the trick that Cena had in his back pocket: a lead pipe that he used to clobber the champion in the gut. "Real men wear pink," boomed Cena, before adding a final quip: "Now that's what I call a pipe bomb!"
The drama didn't end there, though. As the wounded champion hobbled back to the locker room area, he stumbled upon the last person he surely wanted to see: Mick Foley. As The Hardcore Legend affixed Punk with a disappointed glare, Punk's furstration got the better of him and he hit the three-time WWE Champion with a kick to the gut that sent Foley to his knees. Punk began to walk away but soon stopped in his tracks, seemingly ready to deliver one final quip to the fallen Foley.
"You know …" Punk began, before stopping dead in his tracks. A look of fear overcame The Second City Saint as the camera turned to reveal a Superstar had come to the aid of the downed legend: Ryback. And he looked hungry.
Of course, we're HustleTweeting about this incident, and you're more than welcome to follow THE HEYMAN HUSTLE on Twitter HERE or write to us directly at hustleoncrave@gmail.com Hey, have you checked out the Hustle's Ultra High Quality You Tube Channel, with exclusive videos featuring OUR WORLD EXCLUSIVE WITH MIKE TYSON … BROCK LESNAR'S "HERE COMES THE PAIN" … ICE-T AND COCO's SEX SECRETS … TEEN SENSATION TAYLOR MOMSEN … UFC BAD BOY NICK DIAZ … THE WALKING RIOT MISSY HYATT if you're not subscribing, you're missing something … and by the ways cheapos, it's FREE! Yes, absolutely 100 percent FREE! What are you waiting for? Check it out HERE!
By the way, we're also old school social networkers, so check out our interactive skills on Facebook HERE and even on MySpace HERE. If you're on Friendster, GFY … and have a pleasant tomorrow!
CLICK ON THE PICS BELOW TO SEE THE ENTIRE GALLERY FEATURING
WWE CHAMP CM PUNK's CONFRONTATION WITH JOHN CENA (AND MORE)

HERE'S THE WILD ENDING TO WWE MONDAY NIGHT RAW FROM ALBANY, NY!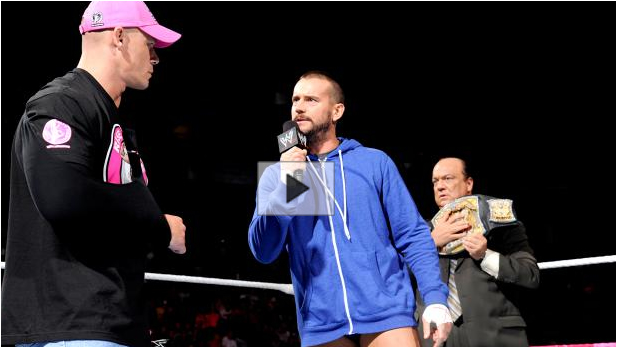 WE HERE AT THE HEYMAN HUSTLE HAVE ENSLAVED HIGHLY TRAINED
MONKEYS TO IGNORE THE FACT THEY ARE OVERWORKED AND UNDERPAID,
ALL IN THE NAME OF SCOURING THE WORLD WIDE WEB TO FIND THE FIFTEEN
MOST PROVOCATIVE STORIES ON THE INTERNET. ALL FOR YOU. NO ONE ELSE
BUT YOU. JUST YOU. AND ALL YOU NEED TO DO IS PICK WHICH PIC TO CLICK!