Monday Night Raw goes off the air with a brand new challenger cemented in place for CM Punk's most dangerous title defense of his near-one-year-reign as WWE Champion!
Our very own Hustler De Tuti Hustlers Paul Heyman kept shaking his head. There was nothing he could do to prevent this from happening. On Sunday, October 28th, CM Punk will be forced to defend the WWE Title against Ryback, live on pay per view from Atlanta, inside Hell in a Cell!
WWE.com reports:
Decision time, take two: with the fate of WWE Champion CM Punk left to the discretion of Mr. McMahon, which route did The Chairman choose for his champion in the place where rivalries are settled once and for all?
Well, the answer, as turned out, was not what anyone could have expected. But we're getting to that. The contract signing for Hell in a Cell started off somewhat typically, with champion and challenger(s) staring daggers at each other over while The Chairman began to address the assembled Superstars, but Punk cut The Boss off before he could even begin, putting pen to the paper and declaring that what would be would be. "I will do to [Cena or Ryback] what I did to you. I will break them," Punk vowed with vigor. This brought out the fire in Cena, who demeaned Punk yet again before making a decision that left all parties speechless: Cena demurred.
Because, while Ryback may or may not care about the WWE Title, what Big Hungry does care about is "kicking ass." And more than anything, Cena's message to Punk was: "You need to get your ass kicked." It was then that Cena painted a picture of Punk's future, and it was a highly unpleasant one filled with unrest and terror as the WWE Champion spent his waking days and sleepless nights haunted by three simple words: "Feed Me More."
With the ramifications of the night becoming clear, Punk looked on in horror as Cena led the WWE Universe in Ryback's chant and Big Hungry put his name to the legalese, solidifying the match and his new status as the No. 1 contender to the WWE Championship. Punk's attempt to intimidate the big man proved fruitless at best, as Ryback unceremoniously pounded Punk's head against the table and Shell Shocked him for good measure, while Cena's prediction showed early signs of coming true: as Raw faded to black and the main event of Hell in a Cell was set, the WWE Champion found himself prone on the mat and surrounded on all sides by those three magic words.
Of course, we're HustleTweeting about CM Punk vs Ryback for the WWE Title, and you're more than welcome to join the conversation by following THE HEYMAN HUSTLE on Twitter HERE or write to us directly at hustleoncrave@gmail.com Hey, have you checked out the Hustle's Ultra High Quality You Tube Channel, with exclusive videos featuring OUR WORLD EXCLUSIVE WITH MIKE TYSON … BROCK LESNAR'S "HERE COMES THE PAIN" … ICE-T AND COCO's SEX SECRETS … TEEN SENSATION TAYLOR MOMSEN … UFC BAD BOY NICK DIAZ … THE WALKING RIOT MISSY HYATT if you're not subscribing, you're missing something … and by the ways cheapos, it's FREE! Yes, absolutely 100 percent FREE! What are you waiting for? Check it out HERE!
By the way, we're also old school social networkers, so check out our interactive skills on Facebook HERE and even on MySpace HERE. If you're on Friendster, GFY … and have a pleasant tomorrow!
CLICK ON THE PICS BELOW TO SEE WWE's OFFICIAL PHOTO GALLERY
FEATURING THE CONTRACT SIGNING FOR CM PUNK VS RYBACK!

CHECK OUT RYBACK SIGNING THE CONTRACT FOR HELL IN A CELL!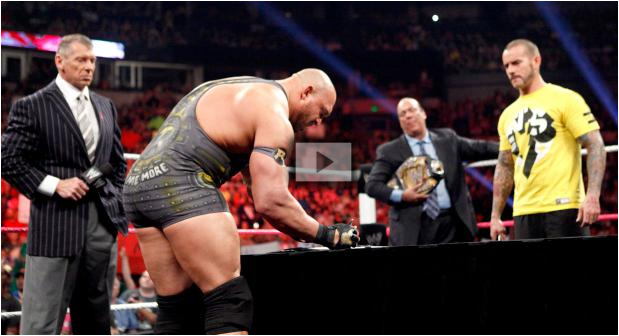 WE HERE AT THE HEYMAN HUSTLE HAVE ENSLAVED HIGHLY TRAINED
MONKEYS TO IGNORE THE FACT THEY ARE OVERWORKED AND UNDERPAID,
ALL IN THE NAME OF SCOURING THE WORLD WIDE WEB TO FIND THE FIFTEEN
MOST PROVOCATIVE STORIES ON THE INTERNET. ALL FOR YOU. NO ONE ELSE
BUT YOU. JUST YOU. AND ALL YOU NEED TO DO IS PICK WHICH PIC TO CLICK!