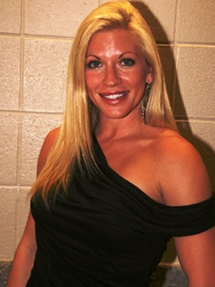 Hustle Photographer Bob Mulrenin Catches Up With The Former WWE Diva!
When we last visited Alicia Webb (aka WWE Diva Ryan Shamrock and WCW Nitro's "Symphony"), the 31 year old blonde beauty had made her first public appearance in forever at a convention in Pennsylvania.

CLICK HERE TO SEE OUR EXCLUSIVE COVERAGE OF RYAN SHAMROCK'S APPEARANCE LAST MONTH IN PENNSYLVANIA!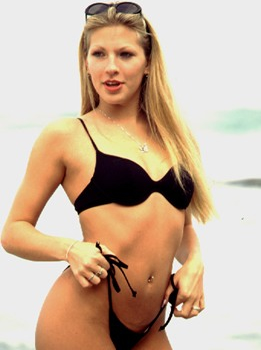 Now accepting more appearance bookings, Alicia/Ryan attended an autograph signing over the weekend, where our own Bob Mulrenin once again grabbed these exclusive photographs.

"She couldn't have been nicer to the fans," Bob reported to us, "she was great at that 1st appearance last month in Pennsylvania, and she was even better at this appearance. She's personable. funny, and takes time with each fan individually. I can't say enough about just how much she makes the fans feel welcome!"

We're HustleTweeting about Alicia/Ryan, and you're more than welcome to join the conversation. Don't be left out, be a HustleTweeter by following THE HEYMAN HUSTLE on Twitter HERE

Of course, you can always write to us, and let us know your thoughts, at hustleoncrave@gmail.com

For those of you on Facebook, check out the Hustle's very own fan page, with exclusive content and assorted insanity HERE

And for you guys still on MySpace, please visit our page, since we've been ignoring it lately. There's some great archive content on there from our days at the UK Sun, and some new content going up this week. You can check out the Hustle's MySpace page HERE

We'll be selling Lemonade outside our offices on Tuesday. Hello? Hello? Are you still reading this? Hello?

CLICK ON THE PICS BELOW TO SEE THE ENTIRE
EXCLUSIVE GALLERY FEATURING ALICIA WEBB AKA RYAN SHAMROCK!


THE HEYMAN HUSTLE'S VERY OWN TRAINED MONKEYS ARE PROUD
TO PRESENT THE TOP 15 STORIES OF THE DAY, ALL CONVENIENTLY
LINKED HERE FOR YOUR REVIEW. NO NEED TO SURF THE WEB, WE
DID ALL THE HARD WORK FOR YOU. JUST PICK A PIC AND CLICK!