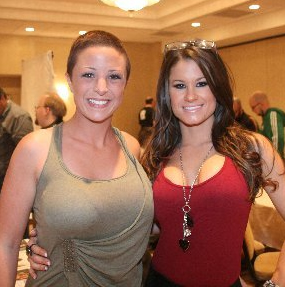 CM Punk's Devout Follower Makes A Rare Public Appearance!
Former Straight Edge Society hellcat Serena Deeb made a rare appearance at the Legends of the Ring convention in New Jersey, where THE HEYMAN HUSTLE's own Bob Mulrenin got these exclusive photos of Serena.

"She was in a great mood," Mulrenin told the Hustle when sending in the pics, "she was not only smiling ear to ear when she posed for some pictures, but took the time to pose with TNA KNOCKOUT MISS TESSMACHER and also with COOKIE (she of Catfighting JWOWW fame)."

We're HustleTweeting about Serena right now, and you're more than welcome to join the conversation. Follow the Hustle on Twitter HERE or write to us at hustleoncrave@gmail.com

You can subscribe to our YouTube channel HERE, with all the latest videos and behind the scenes specials. For you old school social networkers, we're on Facebook HERE and yes, we have a MySpace page HERE

You can follow Serena Deeb on Twitter (if you dare!) HERE
CLICK ON THE PICS BELOW TO SEE THE ENTIRE GALLERY
FEATURING FORMER STRAIGHT EDGE SOCIETY MEMBER SERENA!

THE HEYMAN HUSTLE'S VERY OWN TRAINED MONKEYS ARE PROUD
TO PRESENT THE TOP 15 STORIES OF THE DAY, ALL CONVENIENTLY
LINKED HERE FOR YOUR REVIEW. NO NEED TO SURF THE WEB, WE
DID ALL THE HARD WORK FOR YOU. JUST PICK A PIC AND CLICK!