Hustle Pics and Video as The Legendary Guitarist Tears Down The House With An Amazing 2+ Hour Concert!
In a concert that covered all the many phases of his career, Slash hit New York City with a bang, tearing down Terminal 5 with a concert that lasted well over 2 hours.

The concert featured GNR tunes, Velvet Revolver covers, and songs off his new self-titled album. Slash threw in his version of Jimi Hendrix's introduction to "Voodoo Child" and the popular "Godfather" theme. He even showed an offbeat side with a calming riff by 18th-century Spanish guitar maestro Fernando Sor.

DON'T MISS THIS VIDEO OF SLASH PERFORMING "PARADISE CITY" AT TERMINAL 5 IN NYC!

Myles Kennedy belted out the tunes, but the hot and bright spotlight was directed straight on lead guitar!

SLASH'S SET LIST FOR TERMINAL 5
Ghost
Mean Bone (Slash's Snakepit cover)
Nightrain (Guns N' Roses cover)
Sucker Train Blues (Velvet Revolver cover)
Back From Cali Play Video
Civil War (Guns N' Roses cover)
Rocket Queen (Guns N' Roses cover)
Do It For The Kids (Velvet Revolver cover)
We're All Gonna Die
Nothing To Say
Starlight
Just Like Anything (Slash's Snakepit cover)
Guitar Solo
Godfather Theme
Sweet Child O' Mine (Guns N' Roses cover)
Rise Today (Alter Bridge cover)
Slither (Velvet Revolver cover)
The encore then consisted of:
By The Sword
My Michelle (Guns N' Roses cover)
Paradise City (Guns N' Roses cover)

We're HustleTweeting about Slash, and you're more than welcome to join the conversation. Follow THE HEYMAN HUSTLE on Twitter HERE or write to us at hustleoncrave@gmail.com
CLICK ON THE PICS BELOW TO SEE THE ENTIRE GALLERY
OF SLASH PERFORMING AT TERMINAL 5 IN NEW YORK CITY!

SLASH – "PARADISE CITY" TERMINAL 5 – NEW YORK CITY!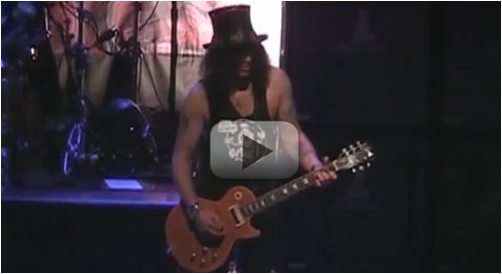 THE HEYMAN HUSTLE'S VERY OWN TRAINED MONKEYS ARE PROUD
TO PRESENT THE TOP 15 STORIES OF THE DAY, ALL CONVENIENTLY
LINKED HERE FOR YOUR REVIEW. NO NEED TO SURF THE WEB, WE
DID ALL THE HARD WORK FOR YOU. JUST PICK A PIC AND CLICK!