"I'm The 1 Behind The 1 in 21-1 … my guy won THEE one … when was the last time your guy WON?"
We knew it would come to this. Our very own Hustler De Tuti Hustlers Paul Heyman took on Zeb Colter in The Great Debate, and words alone could not convey the deep-rooted resentment over Paul stealing the contract of Cesaro. According to the fine reporters at WWE.com:
General Manager Vickie Guerrero opened SmackDown by announcing that, while The Authority was taking the night off, she would personally make The Shield suffer for their actions on Monday's Raw by putting them in an 11-on-3 Handicap Match.
The Queen Diva then introduced a debate between Paul Heyman and Zeb Colter – which quickly spun out of control, bringing the scheduled showdown between Cesaro and Jack Swagger front and center. In the highly personal slugfest between the former tag team partners, The King of Swing ultimately reigned supreme with a devastating Cesaro Swing/Neutralizer combination.
However, the action didn't stop there. For, as the dust was still clearing, The Shield suddenly attacked the war-torn Swagger and dropped him with a Triple Powerbomb – hence neutralizing one of the 11 Superstars scheduled to take them on later in the night. In reference to Triple H's statement to "adapt or perish," The Hounds pointed out that Swagger had failed to adapt and that they were just getting started.
Of course, we're HustleTweeting about The Great Debate, and you're more than welcome to join the conversation by writing us on twitter HERE or write to us directly at hustleoncrave@gmail.com Hey, have you checked out the Hustle's Ultra High Quality You Tube Channel, with exclusive videos featuring OUR WORLD EXCLUSIVE WITH MIKE TYSON … BROCK LESNAR'S "HERE COMES THE PAIN" … ICE-T AND COCO's SEX SECRETS … MMA BAD BOY NICK DIAZ … the list goes on and on, so if you're not subscribing, you're missing something … and by the ways cheapos, it's FREE! Yes, absolutely 100 percent FREE! What are you waiting for? Check it out HERE!
By the way, we're also old school social networkers, so check out our interactive skills on Facebook HERE and even on MySpace HERE. If you're on Friendster, GFY … and have a pleasant tomorrow!
CLICK ON THE PICS BELOW TO SEE THE ENTIRE OFFICIAL
WWE PHOTO GALLERY FEATURING THE GREAT DEBATE!

HERE IT IS FOR YOUR ENJOYMENT … THE GREAT DEBATE!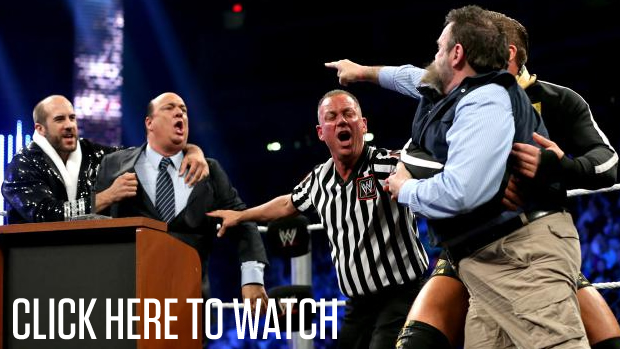 WE HERE AT THE HEYMAN HUSTLE HAVE ENSLAVED HIGHLY TRAINED
MONKEYS TO IGNORE THE FACT THEY ARE OVERWORKED AND UNDERPAID,
ALL IN THE NAME OF SCOURING THE WORLD WIDE WEB TO FIND THE FIFTEEN
MOST PROVOCATIVE STORIES ON THE INTERNET. ALL FOR YOU. NO ONE ELSE
BUT YOU. JUST YOU. AND ALL YOU NEED TO DO IS PICK WHICH PIC TO CLICK!