48 Hours before the Elimination Chamber pay per view, The Rock addresses the WWE Universe from the middle of the ring … only to be upstaged via satellite by CM Punk and our own Hustler De Tuti Hustlers Paul Heyman!
The collision course is set for this Sunday, as The Rock is the reigning defending WWE Champion … but CM Punk has possession of the WWE Title Belt! Our very own Hustler De Tuti Hustlers PAUL HEYMAN ADDRESSED THIS CONTROVERSY IN EXCLUSIVE COMMENTS TO THE HEYMAN HUSTLE and now the WWE Universe knows where Punk and Heyman stand … and so does The Rock!
WWE.com Reports:
After having his WWE Title stolen from him on Raw, The Great One re-emerged on SmackDown, informing his Straight Edge No. 1 contender that his act of thievery will only increase the severity of the beating his challenger will receive on Sunday, one that will "haunt [Punk] the rest of his life."
Punk then appeared on the TitanTron — with the WWE Title still in his possession. Again insisting that the illustrious gold actually belonged to him, he reminded The Most Electrifying Man in All of Entertainment just how much the odds are stacked against him this Sunday. For if The Rock gets counted out or disqualified, he will lose the championship.
Completely discarding his usual pageantry in a way that truly captured the severity of that new stipulation in the impending title conflict this Sunday, The People's Champion made it clear to Punk that it was not going to happen.
CLICK HERE FOR INFORMATION ON HOW TO GET A GREAT DISCOUNT ON THE CM PUNK – #PaulHeymanGuy T-SHIRT COMBO!

Of course, we're HustleTweeting about CM Punk vs The Rock at WWE Elimination Chamber, and you're more than welcome to join the conversation by following the Hustle on Twitter HERE … Hey, we're also on Facebook HERE … and since we haven't updated our MySpace page even though Justin Timberlake has invested in your grandpa's social media, you're welcome to check out our much-ignored page HERE.
CLICK ON THE PICS BELOW TO SEE THE ENTIRE OFFICIAL WWE PHOTO
GALLERY FEATURING CM PUNK AND PAUL HEYMAN UPSTAGING THE ROCK!

CM PUNK AND PAUL HEYMAN LAY THE SMACK DOWN ON THE ROCK!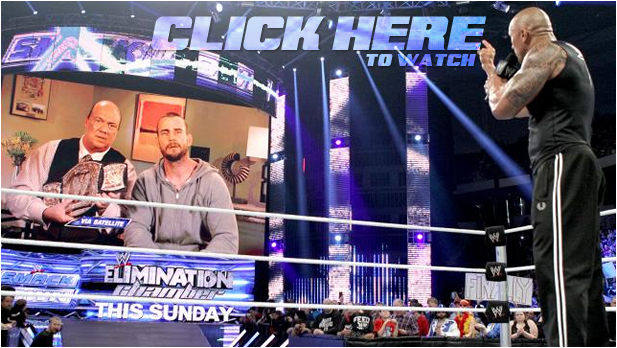 WE HERE AT THE HEYMAN HUSTLE HAVE ENSLAVED HIGHLY TRAINED
MONKEYS TO IGNORE THE FACT THEY ARE OVERWORKED AND UNDERPAID,
ALL IN THE NAME OF SCOURING THE WORLD WIDE WEB TO FIND THE FIFTEEN
MOST PROVOCATIVE STORIES ON THE INTERNET. ALL FOR YOU. NO ONE ELSE
BUT YOU. JUST YOU. AND ALL YOU NEED TO DO IS PICK WHICH PIC TO CLICK!