Our very own Hustlers De Tuti Hustlers makes a public plea following Brock Lesnar's beat down of The Second City Saint!
This week's WWE Smackdown was highlighted by our very own Hustlers De Tuti Hustlers Paul Heyman making an appearance on MizTV, an appearance brought on to discuss BROCK LESNAR'S ATTACK ON PUNK AT THE BARCLAYS CENTER IN BROOKLYN!
According to WWE.com:
Utterly disgusted with the level of depravity reached by Paul Heyman in his controversial situation with CM Punk, The Miz uncharacteristically opted not to ask a single question to the outspoken advocate, choosing instead to simply give him the floor.
Following up on his nefarious actions against Punk at Money in the Bank and Brock Lesnar's assault on The Straight Edge Superstar on Raw, Heyman used the time to speak on behalf of The Anomaly, "pleading" with his former best friend to stay down and disappear or Brock would be forced to deal with him.
A disgusted Miz walked out of the ring, leaving Heyman to welcome Intercontinental Champion Curtis Axel to the arena for his pending title showdown against Y2J.
CLICK HERE TO PURCHASE THE OFFICIAL BROCK LESNAR / PAUL HEYMAN T-SHIRT COMBO!
Of course, we're HustleTweeting about Paul Heyman on MizTV, and you're more than welcome to join us by following us on twitter HERE or write us directly at hustleoncrave@gmail.com Hey, have you checked out the Hustle's Ultra High Quality You Tube Channel, with exclusive videos featuring OUR WORLD EXCLUSIVE WITH MIKE TYSON … BROCK LESNAR'S "HERE COMES THE PAIN" … ICE-T AND COCO's SEX SECRETS … TEEN SENSATION TAYLOR MOMSEN … UFC BAD BOY NICK DIAZ … THE WALKING RIOT MISSY HYATT if you're not subscribing, you're missing something … and by the ways cheapos, it's FREE! Yes, absolutely 100 percent FREE! What are you waiting for? Check it out HERE!
CLICK ON THE PICS BELOW TO SEE THE ENTIRE PHOTO GALLERY
OF OUR VERY OWN HUSTLER DE TUTI HUSTLERS PAUL HEYMAN ON MizTV!

THE MIZ STEPS INTO THE DANGER ZONE!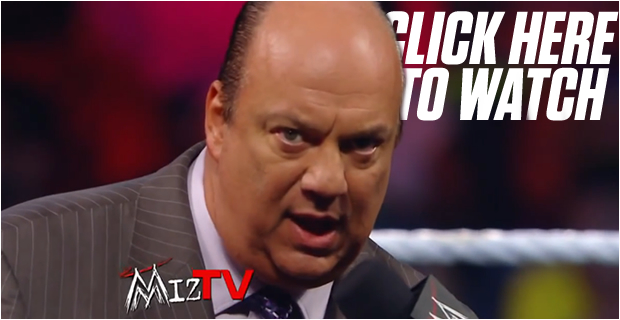 WE HERE AT THE HEYMAN HUSTLE HAVE ENSLAVED HIGHLY TRAINED
MONKEYS TO IGNORE THE FACT THEY ARE OVERWORKED AND UNDERPAID,
ALL IN THE NAME OF SCOURING THE WORLD WIDE WEB TO FIND THE FIFTEEN
MOST PROVOCATIVE STORIES ON THE INTERNET. ALL FOR YOU. NO ONE ELSE
BUT YOU. JUST YOU. AND ALL YOU NEED TO DO IS PICK WHICH PIC TO CLICK!