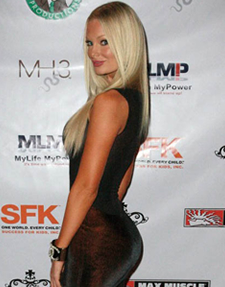 "Eye Contact. That's The Key. Eye Contact. Keep 'em Up. Up. Whatever You Do, Don't Look Down!"
As many of you know, we here at THE HEYMAN HUSTLE are huge fans of Sophie Turner. Ever since we were the first major site on the web to discover the amazingly beautiful Australian Super Model (CLICK HERE), we've followed Sophie's ascension into the mainstream spotlight with her AWESOME BIKINI PHOTOS and PUBLIC WORKOUTS Jeremy Piven, of course, is a long time actor who struck Gold. Literally.

The Chicago thespian scored it big with his portrayal of uber-agent Ari Gold on the HBO series "Entourage," and has a penchant for hot busty blondes (check out EXCLUSIVE PICS OF THE PIV WITH WWE DIVA KELLY KELLY).

Jeremy and Sophie had a discussion at a charity event in Beverly Hills, and we just can't help but wonder what Jeremy thought of Sophie's … um … accent?

We're HustleTweeting on this very subject right now, and you're more than welcome to join the conversation! Follow the Hustle on Twitter HERE or write to us at hustleoncrave@gmail.com
You can also subscribe (for FREE, cheapos, absolutely FREE) to our Ultra High Quality YouTube Channel HERE, and don't forget to check out our old school social networking skills by visiting us on Facebook HERE and even on MySpace HERE

YEAH, WE HAVE SOME JEREMY PIVEN AND SOPHIE PICS IN THIS
GALLERY, BUT WE ALSO HAVE A TON OF SOPHIE SHOWING OFF THOSE
HOT AUSSIE CURVES! WANNA SEE MORE? CLICK ON THE PICS BELOW!

THE HEYMAN HUSTLE'S VERY OWN TRAINED MONKEYS ARE PROUD
TO PRESENT THE TOP 15 STORIES OF THE DAY, ALL CONVENIENTLY
LINKED HERE FOR YOUR REVIEW. NO NEED TO SURF THE WEB, WE
DID ALL THE HARD WORK FOR YOU. JUST PICK A PIC AND CLICK!