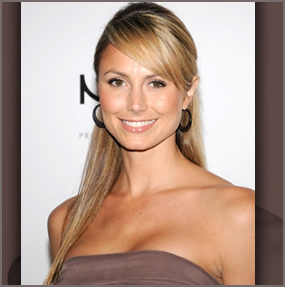 Nothing strikes the fantasy chord quite like two super sex symbols getting together and comparing notes. Such was certainly the case when Dancing With The Stars leggy sensation Stacy Keibler got together at a Hollywood event this week with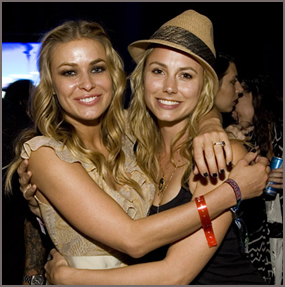 Dancing Without Any Clothes On And Very Rarely Alone While Doing It sensation Carmen Electra, and the two were seen in deep conversation, comparing notes about … well, we don't quite know.
You see, STACY AND CARMEN HAVE BEEN PHOTOGRAPHED TOGETHER BEFORE, but this was clearly a conversation in which the two hotties were discussing a mutual interest. The only thing that is stuck in our heads is … what do they have in common?

While it's true that Stacy was a BOOTY SHAKING WWE DIVA for most of her twenties (and a damn fine one at that), the former Baltimore Ravens cheerleader has been, for the most part, scandal free. Carmen, on the other hand, is a wildcat. Between her marriages to Dennis Rodman, her Playboy spreads, her faux-lesbian photos being leaked, and all sorts of other insanity (hey, keep in mind, she was given her name by Prince in the mid-90s), Carmen has developed quite the wild rep.


CLICK HERE TO SEE A BRAND SPANKING NEW PHOTO SPREAD OF CARMEN IN THIS MONTH'S EDITION OF "GARAGE" MAGAZINE, WITH CARMEN GOING "OLD SCHOOL HOT" IN THE PICS!

So, we're back to wondering just what Stacy and Carmen were talking about. What notes could they be comparing? Maybe they want to do a lesbian kiss on the Hustle?

Who knows? And, really, who cares? As long as they both look great, let them talk! Let them compare notes! Let them even conspire! It's even ok if they have Katharine McPhee join them for a photo op! Stacy Keibler and Carmen Electra have a secret.

What's YOUR Hustle?
CLICK ON THE PHOTOS BELOW TO SEE THE ENTIRE GALLERY
OF STACY KEIBLER AND CARMEN ELECTRA IN HOLLYWOOD!
---
THE HEYMAN HUSTLE IS PROUD AND PLEASED TO PRESENT
THE HOLLYWOOD CHARLIE MEDIA WATCH, FEATURING THE
FIFTEEN BEST STORIES OF THE DAY FROM THE WORLD WIDE
WEB. ALL HERE, CONVENIENTLY CHOSEN FOR YOUR REVIEW
BY OUR HIGHLY REGARDED STAFF OF TRAINED MONKEYS.
YOUR PART, WE DARE SAY, IS EASY. JUST PICK A PIC AND CLICK!